Rowing Meets Resolve
Rower Kate Sneddon not stopped by cystic fibrosis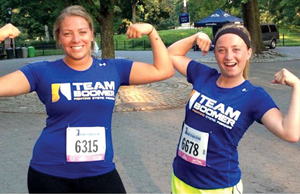 OUR STUDENTS | For the average college rower, life is anything but ordinary. Four a.m. wake up calls, grueling practices on ice-laden waters and seemingly endless reps on the rowing machine are all testaments to dedication and passion for a sport that culminates in barely seven minutes come race day.
For Kate Sneddon, AS16, a rower-turned-coxswain on the Blue Hens rowing team, the busy practice schedule and exhaustive workouts are just one part of her routine.
At age 2 Sneddon was diagnosed with cystic fibrosis (CF), a genetically transmitted disease that causes sticky mucus to form in the lungs, pancreas and other organs. People with CF are prone to frequent infections, have difficulty absorbing basic nutrients and have a shorter-than-normal life expectancy, with an average of 30-40 years.
Sneddon takes about 25 pills a day and relies on different breathing machines to keep her body healthy. But she doesn't dwell on that.
For the biology major from Bellmore, New York, cystic fibrosis is a part of who she is, but it's a small piece of her story.
"If you're not positive, you fail," Sneddon says.
Her positive outlook as Delaware's only student-athlete with cystic fibrosis impresses and inspires her teammates and friends.
"Day in and day out she's just given so much to this team, with a serious condition and not letting it get to her," says head coach Kevin Gruber. "The girls respect her. She's been a rock for us for two-and-a-half years."
Adds teammate Megan Kirby, BE16, "She has crew and school, just like we do, but then we remember she's dealing with a medical condition that flares up all the time and won't go away or get any easier. We forget that because she comes to practice ready to go with a smile on her face, making her jokes and with her positive attitude."
Though a coxswain is not required to do every physical workout the rower must do, Sneddon still prioritizes exercise to keep her body healthy. Just last year, against her doctor's expectations, she ran the New York City half marathon with a team that raised money for cystic fibrosis treatment and research.
"I almost like when people tell me I can't do something," she remarks with a smile. "Because when people tell me that, I'm going to do it."
Article by Erin Dunne, BE16