Orthopedics in Action
UD faculty and students collaborate to create STEM materials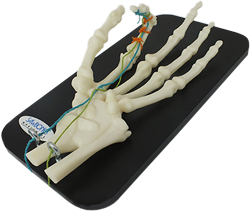 OUR STUDENTS | An interdisciplinary team of students and faculty from the College of Engineering and the College of Education and Human Development have developed unique curriculum kits, called Orthopedics in Action (OIA), which teach science, mathematics and engineering concepts to middle and high school students through medical experiments.
"OIA gives high school teachers a simple yet robust way to teach engineering," says Amy Trauth-Nare, associate director for science education at UD's Professional Development Center for Educators.
The kits include anatomical models and biomechanical testing stations, lesson plans, handouts and video tutorials on five different areas: A broken tibia for students to repair using an orthopedic implant, a knee for diagnostic testing, spinal X-rays to examine scoliosis, a hand that demonstrates pulley systems and a torn Achilles tendon to practice surgical suturing techniques.
Mechanical engineering professor Jenni Buckley reached out to a national laboratory to turn the student designs into actual prototypes, and Trauth-Nare helped with instruction, developing learning objectives, pre- and post-surveys, precise language and guidelines to identify digestible information per grade level.
Students and faculty then worked with teachers in Delaware and Maryland to introduce the kits into classrooms this spring and have since received strong, positive feedback about their efforts.
"Challenging students in inquiry lessons like those created by OIA gives them a chance to use creativity and logic to find the best solution," says Wendy Pasmore, a STEM lead teacher at Elkton High School in Maryland. "In my anatomy and physiology classes, students have continued to refer back to the modules both in content and in process."