Different cultures, different perspectives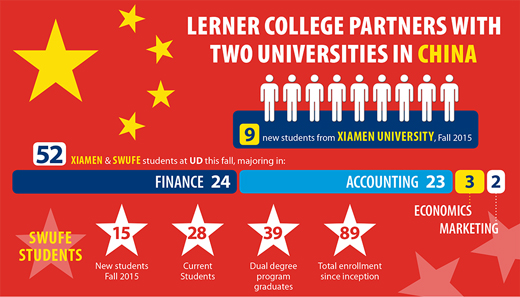 OUR STUDENTS | A group of 23 students from Xiamen University recently visited the University's Alfred Lerner College of Business and Economics as part of the college's unique and fast-growing partnerships with universities in China.
The undergraduate exchange students spent 10 days in Delaware, taking classes in marketing and finance and visiting local attractions, from attending a Wilmington Blue Rocks baseball game to touring the Herr's Potato Chip Factory in Nottingham, Pennsylvania.
Program participant Cun Ji said that visiting Delaware has become one of her most treasured memories.
"This experience provided me a chance to understand more about different cultures," Ji said. "I love UD and Delaware, and I truly hope to revisit someday."
She and other students from the group kept in touch with Lerner faculty like Deputy Dean Rick Andrews, and met with them again in Xiamen soon after the trip to discuss future ideas for programs and visits.
Andrews called this program with Xiamen University one of many "seeds planted in the beginning of a relationship that is growing and maturing."
For example, through the Lerner College's dual enrollment programs with Xiamen and the Southwestern University of Finance and Economics (SWUFE) in Chengdu, China, students can spend half of their undergraduate or graduate careers at UD and half at SWUFE or Xiamen. This allows students to earn degrees from both UD and the partner institution.
And the Lerner College is working to create an even wider variety of international student programs.
With the creation of the World Scholars program in 2014, which provides students with a four-year global undergraduate experience, and the ongoing popularity of study abroad programs, the next phase of Lerner's partnerships in China will involve more exchange opportunities, including the chance for students to spend semesters in highly relevant business centers such as Shanghai and Hong Kong.
Andrews explained that this strengthening of the pipelines between universities increases international diversity on campus and introduces UD students to China as a critical partner in both business and culture.
"In the current global and economic environment, there is no better place than China for our students to gain exposure to business practices that will make them more competitive in the marketplace and more versatile employees," Andrews said.
Article by Sunny Rosen, AS14