Commencement 2015
Graduates urged to embrace challenges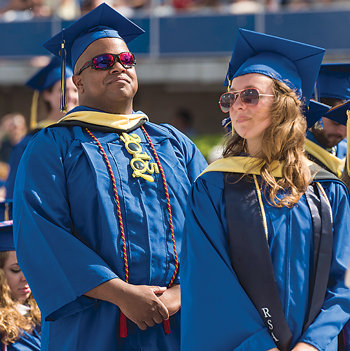 Photo by Kathy F. Atkinson
OUR STUDENTS | "I hope you don't suffer but take the pain…. Hope when your moment comes, you'll say, 'I lived,'" said Dave DeWalt, EG86, delivering the University's 166th Commencement address to the Class of 2015 on May 30.
More than just lines in a One Republic song, DeWalt told the crowd of 23,000, "They are words to live by—words I have lived by."
Named one of the 25 most influential executives in high technology, DeWalt, now president and CEO of cybersecurity company FireEye, recalled that the years since graduating from UD have been marked by success and failure, and some valuable lessons learned along the way.
"In 1982, I arrived a boy here at the University of Delaware," DeWalt said. "In 1986, I left a man—a changed man."
His message of perseverance was one that resonated with many graduates.
The Class of 2015
"You are all here today because you said 'yes' to opportunity, and when life didn't go as planned, you said, 'I'll adapt,'" said Patrick T. Harker, delivering his last Commencement address as UD president. "When you encountered an obstacle, you said, 'I'll persevere.'"
Harker recounted the persevering spirit of several members of the Class of 2015 who met challenges and overcame adversity, including George Montgomery, EG15. Profoundly deaf by kindergarten, Montgomery received a cochlear implant at age 6, and by middle school he became fascinated by the amazing technology that changed his life.
"This morning George is receiving an honors degree in computer engineering with minors in computer science and mathematics," Harker said. "He wants a career with impact, possibly working on devices like his cochlear implant so others can benefit as he did."
David Sang, BE15, who envisioned a major in computer engineering, found he loved business and finance, and pursued his passion through key internships, study abroad in South Africa and India and service as president of the Blue Hen Investment Club.
"In a few weeks he'll be the first UD graduate anyone can remember to land a job right out of college with the prestigious McKinsey and Company consulting firm," Harker said.
Nikki Gomes, HS15, had planned to be a Spanish-speaking orthopedic surgeon in a pediatric hospital, but after spending time in UD's physical therapy clinic found she loved the opportunity to really get to know her patients there. "Today, Nikki will receive her honors degree with distinction in exercise science," Harker said, "and in a few weeks she'll start our doctoral program in physical therapy."
At age 32, Lemond Adams, AG15, began studying food science at UD.
Sitting in a microbiology class, he got the text he had been waiting for, that his wife was in labor with their first child.
"Over the next few months, Lemond plowed through calculus, physics and organic chemistry while managing 2 a.m. feedings and diaper changes, but with his wife's support, he made it," Harker said. "Next month, Lemond will start a new job as a research and development chef for a Philadelphia food company."
The couple welcomed their second child in August.
The Commencement ceremony concluded with the UD alma mater, sung by senior members of the University's a cappella groups and the University Chorale.

Article by Jerry Rhodes, AS04