Notable Grants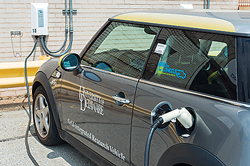 Renewable energy
Professor Willett Kempton's research group is one of five new technical teams selected nationwide to share in up to $6.5 million in federal funding from the Department of Energy's National Renewable Energy Laboratory (NREL). Electrical and computer engineering professor Fouad Kiamilev is a co-investigator on the grant.
At UD, their group will test how electric vehicles can provide energy storage support to the power grid. This "vehicle-to-grid" (V2G) technology shows great promise because it allows owners of electric vehicles to get extra utility out of the vehicle's battery pack, essentially using it as a supplemental power supply. When coordinated with a smart grid, utilities can leverage V2G-equipped electric vehicles to help regulate the local power grid.
Kempton, professor in the School of Marine Science and Policy in the College of Earth, Ocean, and Environment and research director of the University's Center for Carbon-Free Power Integration, developed the concept of V2G at UD in 1997. He and his colleagues have been conducting research and development on V2G technologies since then.
"Technologies such as smart appliances and electric vehicles are changing how we think about and operate the electrical grid," said Bryan Hannegan, NREL's associate director for energy systems integration. "As these technologies are commercialized and adopted by consumers, our grid of the future must be able to draw on a wide range of resources to maintain a stable power supply and deliver clean, reliable energy to consumers."
Research in schools
The University has received a $5 million grant from the Institute of Education Sciences, a division of the U.S. Department of Education, and the National Center for Education Research to better understand the connections and gaps between education research and school practices.
To date very little is known about how teachers discover and apply research on best teaching practices, curriculum and other classroom strategies, says Henry May, associate professor and director of UD's Center for Research in Education and Social Policy. The objective of the study will be to understand how information travels from researchers studying what works, to the actual classrooms. "If teachers are to use the best strategies we have, they need to know which ones are better than others."
The five-year study aims to improve teaching and learning outcomes in schools.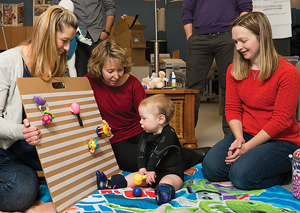 Learning interventions for infants with special needs
A team of researchers, including two faculty members in UD's Department of Physical Therapy, has been awarded a four-year, $3.4 million grant to test the efficacy of an intervention known as START-Play.
Funded by the Institute of Education Sciences, the project is led by Regina Harbourne at Duquesne University. UD's Michele Lobo, co-director of the Pediatric Mobility Lab and Design Studio, and Cole Galloway, professor of physical therapy, are both key investigators.
START-Play, an acronym for "Sitting Together And Reaching To Play," is an intervention designed to specifically target sitting and reaching to improve problem solving, development and readiness-to-learn in infants with motor delays or dysfunction.
The research will take place in the homes of 140 infants with neuro-motor disorders in Pennsylvania, Delaware, Washington and Virginia.
Using a randomized controlled trial, the team will investigate the impact of the intervention on changes over time in sitting and reaching, subsequent changes in cognitive development and the mediating influences of motor skill changes and problem solving.