Honors & Achievements
Suresh Advani, George W. Laird Professor and chair of mechanical engineering, has been named 2015 Composites Educator of the Year by the Society of Plastics Engineers.
Maria Aristigueta, Charles P. Messick Professor of Public Administration, has been named president of the American Society for Public Administration.
Dawn Elliott, professor and chair of biomedical engineering, received the Van C. Mow Medal from the American Society of Mechanical Engineers.
Thomas H. Epps, III, Thomas and Kipp Gutshall Associate Professor of Chemical and Biomolecular Engineering and associate professor of materials science and engineering, received the 2015 Owens-Corning Early Career Award from the Materials Engineering and Sciences Division of the American Institute of Chemical Engineers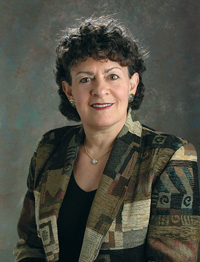 Roberta Golinkoff, Unidel H. Rodney Sharp Chair in the School of Education, was co-recipient of the James McKeen Cattell Fellow Award, one of the highest honors conferred by the Association for Psychological Science.
James Hiebert, Robert J. Barkley Professor of Education, received the Senior Scholar Award from the American Educational Research Association's Special Interest Group for Research in Mathematics Education.
Kristi Kiick, professor and deputy dean of engineering, and Eric Furst, professor and director of the Center for Molecular and Engineering Thermodynamics, were elected fellows of the American Chemical Society.
Donna Laws, business administrator for the Department of Hotel, Restaurant and Institutional Management, was named associate member of the year by the Delaware Hotel and Lodging Association, which also named William Sullivan, managing director of Marriott's Courtyard Newark at the University, hotelier of the year.
Catherine Leimkuhler Grimes, assistant professor of chemistry and biochemistry, received a Cottrell Scholar Award from the Research Corporation for Science Advancement.
Michael Mackay, Distinguished Professor of Materials Science, was elected a fellow of the Polymer Materials Science and Engineering Division of the American Chemical Society.
Sue McNeil, professor of civil and environmental engineering, was named distinguished member of the American Society of Civil Engineers.
Martha Corrozi Narvaez, associate policy scientist for the Water Resources Agency, was named president-elect of the American Water Resources Association, effective Jan. 1.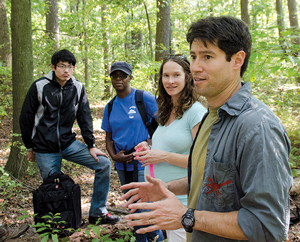 Bahira Trask, professor, associate chair and graduate coordinator of the Department of Human Development and Family Studies, has been named fellow of the National Council on Family Relations.
Rodrigo Vargas, assistant professor of plant and soil sciences, contributed to a United Nations publication on the benefits of soil carbon.
Excellence in Teaching and Advising
Eight faculty members have been recognized for excellence in teaching and advising. Based primarily on nominations from current and past students, faculty excellence awards recognize professors whose courses are viewed as being thought-provoking, intellectually demanding, related to other fields and touching on contemporary issues and student experiences.
2015 Excellence in Teaching Awards:
Ralph Begleiter, Edward F. and Elizabeth Goodman Rosenberg Professor of Communication and the founding director of the Center for Political Communication
Guido Geerts, professor of accounting and management information systems and Ernst and Young Faculty Scholar
Anthony Middlebrooks, associate professor in the Organizational and Community Leadership Program in the School of Public Policy and Administration
Margaret Stetz, Mae and Robert Carter Professor of Women's and Gender Studies and professor of humanities
2015 Excellence in Undergraduate Academic Advising Awards:
Laura Eisenman, associate professor in the School of Education and adviser for the interdisciplinary disabilities studies minor
Thomas Kaminski, professor of kinesiology and applied physiology, and director of undergraduate athletic training
Deborah Delaney, assistant professor of entomology and wildlife ecology
Cynthia Diefenbeck, assistant professor in the School of Nursing