A love of music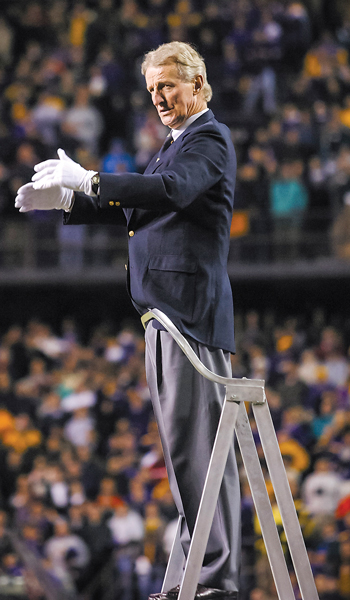 Jim Zietz, LSU University Relations
ALUMNI & FRIENDS | With a professional pianist for a mother—she played during rain delays at Boston Red Sox games in addition to her more traditional performances—Frank Wickes, AS59, grew up listening to classical and jazz music, taking piano lessons and singing in church choirs.
But he also was an athlete, a member of the 1955 New Jersey state high school basketball championship team, and when he enrolled at the University of Delaware it was to play basketball and study engineering.
He played varsity basketball at UD, added baseball to the mix and joined the marching band as a clarinetist. But by sophomore year, music won out over engineering.
"I switched my major to music, and that was the beginning of everything," says Wickes, now retired after five decades of teaching and conducting, the final 30 years at Louisiana State University (LSU), where he won numerous honors and directed the acclaimed Tiger Marching Band.
The Department of Music at UD was small in the 1950s, and Wickes remains full of praise for the tight-knit group of faculty who knew and mentored all their students.
"The teachers were just phenomenal," he says. "I was nurtured properly."
He particularly remembers the late J. Robert King, longtime professor of music and founding director of the UD Marching Band, who taught conducting and instrumental music classes and first urged Wickes to study music education. Not many musicians make a living as composers and arrangers, he told his student, but good teachers are valuable and in demand.
Another faculty member, Elizabeth Crook, took Wickes to teach his first elementary-school music lesson. He discovered, he says, that he loved teaching as much as he loved music itself.
"It never mattered to me what level of students I had," he says. "I worked with elementary students all the way up to doctoral students, and I enjoyed them all."
After graduation, Wickes taught at high schools in Delaware and Virginia, played in Wilmington's National Guard band and earned two master's degrees at the University of Michigan, in woodwind performance and in music education.
Studying at Michigan, he says, piqued his ambition to direct a marching band at a university with a major football program. He got his chance, spending seven years at the University of Florida and, in 1980, accepting a job at LSU.
In Baton Rouge, Wickes built up the marching band in size (from 240 members to 325) and reputation. He recruited nationwide for top musicians for both the band and LSU's 58-person wind ensemble.
"We had good scholarships and good support," Wickes says. "Just like coaches [recruiting athletes], we went after blue-chip instrumentalists, and we had a lot of success. I always had good students, good musicians."
He has earned a long list of honors over the years, including the Kappa Kappa Psi Distinguished Service to Music Medal, the Phi Beta Mu National Bandmaster of the Year award and election to the Louisiana Music Educators Hall of Fame and the National Band Association Hall of Fame of Distinguished Band Conductors.
This spring, he received the Alumni Achievement Award from UD's College of Arts and Sciences. Wickes came to campus for the award and says he visits UD regularly, attending musical performances with Prof. King's widow and generously supporting the J. Robert King Memorial Scholarship.
One of his great joys, he says, has been seeing UD's Department of Music grow and flourish with outstanding faculty and students. His other has been as a music educator.
"I never doubted for one day that I was in the right profession. To me, it was a skill but also a passion—a love of making music and a love of working with students."
Article by Ann Manser, AS73