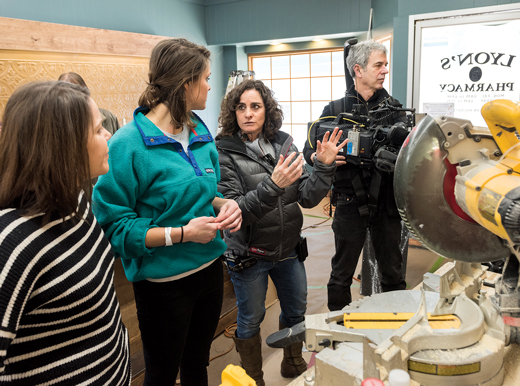 Photo by Evan Krape
Behind the Lens
ALUMNI & FRIENDS | "It's nuts in here!" Jill Littman, AS92, exclaims from her director's chair.
She's sitting in a make-shift production studio in the back of a small brick building in Elkton, Maryland, where cameras, equipment, production assistants and a small table of granola bars and cookies all clamor for space.
While she talks, her eyes remain fixed on a small screen, watching footage of her crew. They're in the pharmacy and luncheonette next door, restocking shelves, painting signs, rapidly renovating the kitchen as they only have 48 hours to overhaul the small business.
As co-executive producer for Restaurant: Impossible, the Food Network series that fixes failing but promising restaurants in two days and with $10,000, Littman is unfazed by chaos.
"I love it when plans go out the window because that's when you gotta think," she says.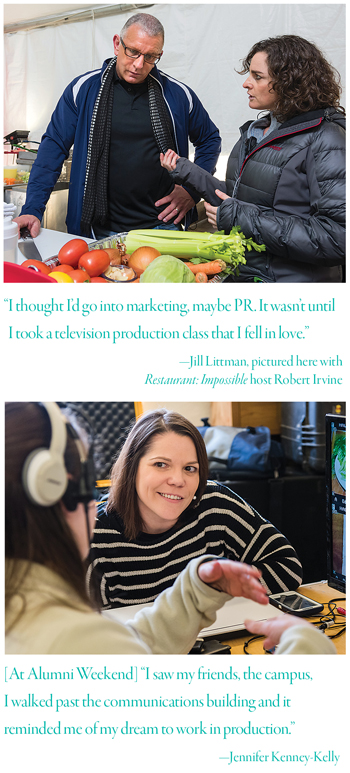 Photos by Evan Krape
Right now, everything is on schedule, though the shoot is not without tears. This particular episode centers around the Lyon's Pharmacy in Elkton, a fixture in the local community, where for decades patrons have stopped in to pick up their prescriptions, enjoy a quick bite and converse with Tony, the beloved owner. When he passed away in 2013, his daughter assumed control of the family business. A pharmacist with no experience in restaurant management, Marybeth made $2.8 million in revenue last year, but netted a mere $14,000.
"I really feel for her," says Littman. "Reality TV often gets a bad rap—and for good reason—but I like that we help people on this show." (In the time between the February renovation and April air date, Lyon's witnessed a 15 percent increase in gross sales).
Littman has been co-executive producing Restaurant: Impossible since 2010. Prior to that, she worked as a story producer for the Network's Dinner: Impossible. She has also produced shows for more than two dozen television series, including TLC's On the Inside, where she chatted with Judy Blume in the author's Martha's Vineyard home; 16 and Moving In, documenting the then-relatively unknown Duggar family's attempt to build their own house; and The Best Of…, which took her through Spain, Portugal and France, all while pregnant and seasick.
It's a far departure from the life she envisioned when she started UD in the late '80s.
"I thought I'd go into marketing, maybe PR," Littman says. "It wasn't until I took a television production class that I fell in love."
Her first experience behind the camera was producing a 25-minute clip for WTV, a hands-on project for communication majors in the 1970s, '80s and '90s. During the Winter Session course, taught by the late Walt Rykiel, AS72, 79M, communication students would write, direct and produce their own programs, aired on the local cable system.
WTV was like The Review for aspiring broadcast journalists and producers. Littman's segment, which aired in 1992, celebrated the program's 20-year anniversary, with interviews from faculty, students and more than a dozen WTV alumni.
As an exhausted but affable Rykiel says in the Littman-produced segment, "[It's] long hours, a lot of work, very frustrating. I got people running all over the place…."
Twenty three years later, in the back of an Elkton pharmacy just 12 miles west of her alma mater, Littman echoes her professor's sentiments.
"It's a circus, huh?" she asks with a smile. Littman is speaking to Erin Ryan, AS15, a current UD senior whose brother happens to work at the same production company. Ryan is visiting him to learn more about the business and has the added bonus of getting some firsthand advice. "Internships are great," Littman tells her. "The more hands-on experience you can get, the better."
Ryan is a communication and mass communication major from Roxbury, New Jersey, who recently began an internship as a production assistant for MTV. The Elkton pharmacy is the first set Ryan has ever visited.
"I love it," she says. "I love talking to people in the field, learning how they got there. You can't learn this in a class."
And you can't get better than someone like Littman, adds production coordinator Jennifer Kenney-Kelly, AS01.
Kenney-Kelly recently began her career in video production after taking a hiatus from the field to work at a family business. It wasn't until she attended UD's Alumni Weekend in 2014 that she felt the desire to return to the profession.
"I saw my friends, the campus," she remembers. "I walked past the communication building and it reminded me of my dream to work in production."
Today, Kenney-Kelly manages all travel, deliverables and logistics for the Restaurant: Impossible crew. Littman, she says, "is the head honcho."
Or as Marc Summers, the Nickelodeon host from the 1990s and current executive producer of the series, puts it, "This show would never exist if it weren't for Jill."
For her part, Littman is a relatively unassuming, un-head-honcho-y co-executive producer for one of the Food Network's most popular shows.
"I've made a lot of TV throughout my career," she says. "But the best thing I've ever produced—my two kids."