The Messenger's on-the-scene photo spread highlights Alumni Weekend 2015
View slide shows of these Alumni Weekend events
CORRECTION: Page 64 of the printed magazine includes a save-the-date graphic for Alumni Weekend 2016 with incorrect dates of June 6-8. The correct dates are June 3-5, 2016. We apologize for the error and look forward to seeing you next year!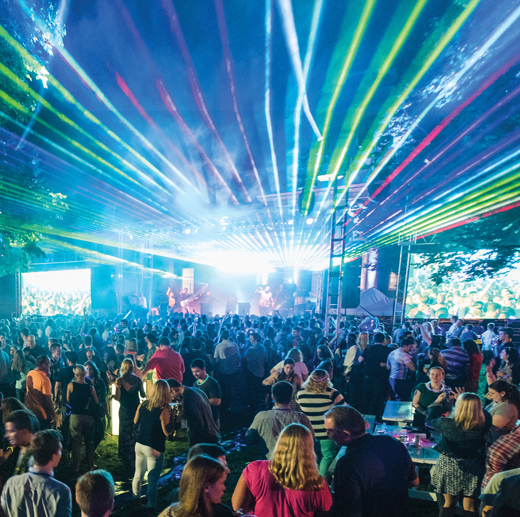 Old friends, new memories
Blue Hens flock to campus for seventh annual Alumni Weekend
Flush with old friends and new memories, the seventh annual University of Delaware Alumni Weekend was a record-setting event, with more than 6,000 Blue Hens returning to the Newark campus June 5-7.
This year marked major milestones for the University, as the campus bid farewell to two of its most iconic residence hall complexes, Rodney and Dickinson, as well as to the president who helped establish this annual celebration seven years ago.
Growing in popularity each year, Alumni Weekend affords former roommates, classmates and professors the opportunity to meet and share memories of UD while creating new ones.
"Since 1998, I hadn't been to one UD event. This year, I've already been to three," said John Choi, EG98. "I'm motivated now to reach out and meet people, to make connections."
Choi's sentiment reflects the University's overarching strategy to increase alumni engagement and expand Blue Hen networks.
With dozens of events—including the open air Dela-bration on The Green, college receptions, reunions, tours, a Kid Zone and a 5K run—Alumni Weekend had something for everybody, regardless of age or interest.
To recreate their college experience, more than 2,200 attendees opted to spend the weekend in University residence halls.
Reunions were held for the classes of 1965, 1990, 1995, 2000, 2005 and 2010. Together, members of all reunion classes raised more than $4 million for their alma mater.
Attendees Ron Moore, EG91, George Gianforcaro, EG91, and Paul Hagerty, EG91, understand the importance of reunions. Four of their children were born within weeks of each other in the summer of 1998, and they brought all of the newborns to a UD football tailgate just months later.
The three best friends are in the process of planning their 25-year reunion for 2016.
"This is one of the highlights of our year," said Moore. "We love UD."
More on Alumni Weekend in the pages ahead.