UD alumnus Chris Christie announces bid for GOP presidential nomination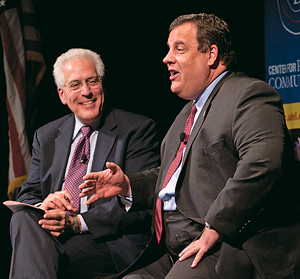 Duane Perry
Chris Christie with Ralph Begleiter at the National Agenda in Nov. 2011.
ALUMNI & FRIENDS | University of Delaware alumnus Chris Christie, AS84, 11H, the two-term governor of New Jersey, announced that he will join the Republican field in the race for the party's presidential nomination.
Christie made the announcement this June in his childhood hometown of Livingston, New Jersey.
His candidacy continues the University's legacy as the "epicenter" of national politics, a term coined by Bloomberg News during the 2008 presidential race when the campaign of Barack Obama included Vice President Joe Biden, AS65, and manager David Plouffe, AS10, and the campaign of Republican John McCain included adviser Steve Schmidt, AS93.
Bloomberg reporter Nicholas Johnston wrote then that "the academic epicenter of this year's presidential election isn't, as in some years past, Harvard or Yale. It's located between Baltimore and Philadelphia at the University of Delaware."
More recently, Frank Bruni, columnist with The New York Times and author of the book, Where You Go Is Not Who You'll Be, has cited the University of Delaware and its graduates who have reached the national political stage.
Appearing on the program CBS This Morning on March 17, Bruni said too many prospective students look only to the nation's elite universities, failing to consider that there might be better fits.
"So why aren't we talking about this maker of political kings, the University of Delaware," he asked. The reason, he said, is "because we prefer the other narrative, which is not an accurate one."
About Christie
After graduating from UD in 1984, Christie attended Seton Hall University School of Law, graduating in 1987. He joined a Cranford law firm and was soon named a partner. He was elected a freeholder in Morris County, and served as director of the board in 1997.
In 2002, Christie was named U.S. attorney for the District of New Jersey. As the chief federal law enforcement officer in New Jersey, he and his office racked up an impressive record, winning convictions or guilty pleas from more than 130 public officials, both Republican and Democrat.
Christie was sworn in as New Jersey's 55th governor on Jan. 19, 2010.
Christie is a 1984 UD graduate and a Double Del, married to 1985 alumna Mary Pat Foster Christie. Both were active in student government, winning back-to-back class presidencies.
The Christies have remained very close to the University throughout the years, with Mary Pat having served on the UD Alumni Association Board of Directors and both returning often for Blue Hens football games and campus events.
Christie received the University's Presidential Citation for Outstanding Achievement in 2003, and has spoken at Winter Commencements in 2004 and again in 2011, when he was presented an honorary doctor of laws degree.