COLOR/Form: Dennis Beach/Donald McLaughlin
Art exhibition by two alumni on view in Old College Gallery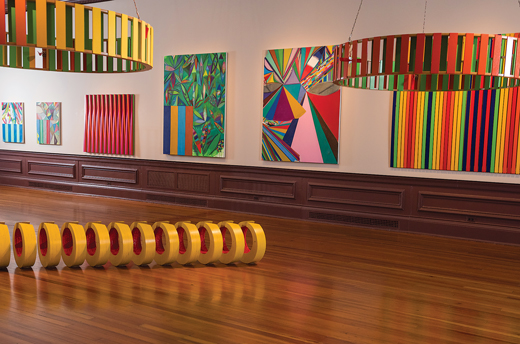 Photo by Kathy F. Atkinson
ALUMNI & FRIENDS | How do ideas become works of art? A new UD art exhibition explores this question through the paintings and sculptures of Dennis Beach, AS05M, and Donald McLaughlin, AS79.
Their exhibition, COLOR/Form, will remain on display from Sept. 9 until Dec. 11 at the University's Old College Gallery.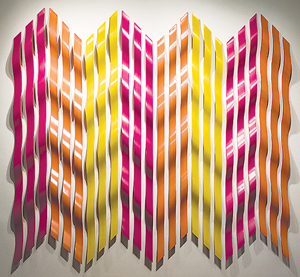 Photo by Kathy F. Atkinson
Beach, represented by Schmidt Dean Gallery in Philadelphia, creates artwork through multiplying forms and colors. The undulating forms he cuts from plywood with a band saw invite comparison to ripples in water and ocean waves. In the studio, his works take on a life, generating shapes and ideas for future compositions. When is the work finished? According to Beach, when "beauty is undeniable."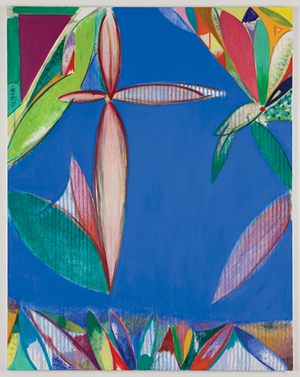 Photo courtesy of University Galleries
The origin of some of the paintings by McLaughlin can be traced to the artist's perception of leaves blowing against a window screen in midsummer. He began to draw, and as he did so he perceived forms emerging, taking new shapes, recombining. Then came notebook sketches for the works; once in his studio, he enlarged these, drawing in charcoal on the stretched linen. As often happens, his process began with several canvases at once to which he would make adjustments. In his words, "I often had no idea what I was going to do in the studio that day, and sometimes, it was just wasted effort…. When it was going well, I was painting in a spontaneous fashion, just watching the shapes spinning off the brush, and looking for any shapes that might work well together."
If you go...
Old College Gallery and all University Museums are open for the fall semester Sept. 9 – Dec. 11.
Hours: Wednesdays, noon-8 p.m.; Thursdays- Sundays noon-5 p.m.
Open to the public without charge.
Old College Gallery will close for Thanksgiving at 5 p.m. on Nov. 20 and reopen on Dec. 2.
For more information, visit www.udel.edu/museums