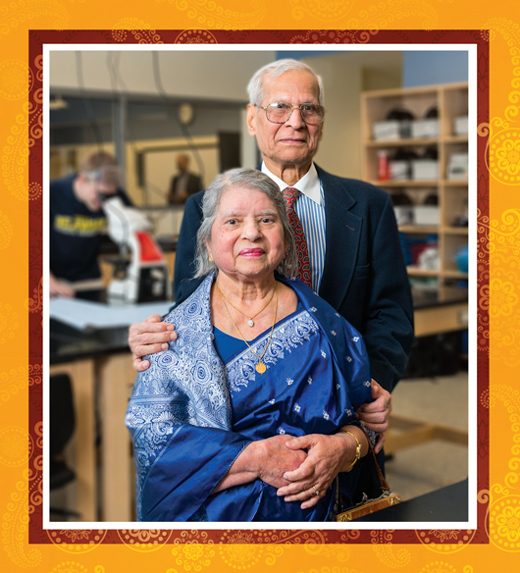 Photo by Evan Krape
Lives blessed by learning
ON THE GREEN | In 1950, Krishan Khanna found himself in Delhi, paying a 10-rupee late fee to take the high school exam that would qualify him for college.
Three years before, on Aug. 14, 1947, he had crossed the Pakistan-India border, one of millions of immigrants during Partition, the bloody relinquishment of British India that divided the country along religious and political lines and left hundreds of thousands of Hindus and Muslims dead.
Khanna, 16 at the time, left the Pakistani village that had been his family's home since 1790 and headed for the new Indian border with his parents, brothers and fellow Hindus. They were attacked less than two miles down the road, his father shot and killed, his mother captured, his family reunited only months later, in Delhi.
There, he began working nine-hour days, six days a week, winding armature wire for ceiling fans at a factory outside the city. In 1950, after scrounging the 10 rupees to take the college entrance exam, Khanna began night classes at a camp for Pakistani refugees. He had no money to put toward his education.
"Sit in the back of the class," his economics professor told him. "Don't worry about paying the fee."
"But what about the other professors?" Khanna asked.
"I'll talk to them."
Four and a half years later, he graduated—debt free—and began working at the Ministry of Education for 125 rupees a month, nearly three times his salary at the factory.
In 1958 he married the girl next door, a lady with a similar name and a similar love for education. Krishna Khanna's father was a schoolteacher in a time when girls weren't educated or pushed to study. "But," she says, "he knew the potential and encouraged me."
After her marriage, she continued her education with her husband's support, attending college 300 miles away to earn her Bachelor of Teaching degree. Their life in India was pleasant, they say, but they faced limited opportunity and little room for professional and educational growth.
In September 1960, Krishan Khanna sailed to London. He lived alone for more than a year working as a typist for the Auto Association until his wife joined him. There, she earned a graduate degree in education from the University of London and taught for six and a half years at an elementary school in Birmingham.
"But then I heard they needed teachers in the U.S.," she remembers. And so she applied for a job in Delaware and was hired on the spot.
To expedite her visa, the superintendent of the then-Wilmington Public School District wrote to the British Embassy, referring to the processing delay as "depriving our students of the best teaching."
Her visa was soon granted, and the Khannas arrived in the United States on Nov. 14, 1969. Krishna started teaching that very afternoon. For the next 26-plus years, she would teach second grade, first at Charles B. Lore and later at Heritage elementary schools.
Today, they continue to live in the house they bought three years after coming to America. Krishna Khanna wears saris daily. An avid couponer, she dials the 800-number on the back of products and beams when talking about saving $3 off a pack of multivitamins.
At 83, Krishan Khanna is a handyman who has never called an electrician or plumber and recently installed a third bathroom in his home. He loves Sudoku puzzles, Lean Cuisine frozen meals and the stock market channel, which is on his television 24 hours a day.
In America, he worked for decades in investments, then as a CPA and, finally, as an accountant for a local school district, all the while investing money in stocks—the dividends of which the Khannas have invested yet again.
The two never attended UD, nor do they have any personal or professional ties to the institution, but in 2011, they established the Krishan and Krishna Khanna Scholarship. In 2012, they gave $1 million to the new Interdisciplinary Science and Engineering Laboratory (ISE Lab). They've bequeathed their entire estate, valued at $2 million, to the University.
"Everything we have, everything we've done, everything we've been blessed with is because of education," Krishan Khanna says, and when he reads the plaque on the ISE Lab wall, he chokes up.

In gratitude for the Khannas' commitment to education and problem-based learning, the instructional laboratory suites on all four floors are named in their honor.
"I would have made a great engineer, but we didn't have the means," Krishan Khanna says. "When I read the plaque, when I see those words, I know we have done something good."
Article by Artika Casini, AS05