New leadership for athletics, recreation services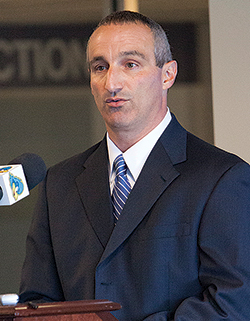 SPORTS |Eric Ziady, who spent the last 23 years working in the highest levels of collegiate athletics administration in the Boston area, has joined UD as director of athletics and recreation services.
The Massachusetts native, whose appointment was announced in October, is just the fifth director of athletics at Delaware since 1940. He replaces Bernard Muir, who left UD last summer after three years at the helm to become director of athletics at Stanford University.
Ziady began work at UD in early November.
University President Patrick Harker says Ziady is focused on student success in both academics and athletics.
"He's an incredibly strong financial administrator and a proven revenue-generator," Harker says. "He understands the conference landscape and can help us navigate through the issues of conference alignment. And he absolutely shares our most fundamental goal: to educate student-athletes who will lead in competition, in the classroom and in the community."
Ziady arrives at UD after spending the previous 14 years at Boston College—most recently as senior associate athletics director for business operations—and nine years before that at Northeastern University.
He now heads a UD athletics and recreation services department that sponsors 21 intercollegiate sports, including 13 women's sports. Delaware captured three CAA team titles a year ago, had three teams post first-round wins in NCAA tournaments and finished second among CAA schools in the NCAA Division I National Association of Collegiate Directors of Athletics Directors' Cup standings. A vibrant recreation services department sponsors more than 30 club sports and 30-plus intramural programs.
"I understand the rich history and tradition of Delaware athletics, and I can't wait to work with this fine group of coaches, administrators and staff as we go forward in the years ahead and build upon that great legacy," Ziady said as his appointment was announced. "We are excited to settle our family in the Newark community and build the next chapter of our lives as part of the Delaware family."
He and his wife, Lauren, have three children, Matthew, Lindsey and Courtney.
At Boston College, an Atlantic Coast Conference member, Ziady was responsible for handling both the long-range fiscal and strategic planning for the department as well as the day-to-day administration of all business and financial operations. In addition, he handled football game scheduling and contract administration, as well as overseeing five of the men's and women's athletic programs—football, men's and women's golf and men's and women's sailing.
A 1988 Providence College graduate, Ziady earned a master's degree in sports management and a master of business administration degree from Northeastern.
For more news from Athletics, visit www.bluehens.com.