SPORTS |When the NCAA named Elena Delle Donne its Academic All-American of the Year in Division I women's basketball, it may have momentarily surprised the UD fans who know her only as one of the nation's top players, but it couldn't have surprised her classmates and professors.
A human services major, with a concentration in administration and family policy, Delle Donne is a Dean's List student who had a 3.60 grade point average when awarded the academic honor last February. One of 15 NCAA Division I women's players recognized on the Academic All-American team, she was then selected as the top student-athlete from among that prestigious group.
Delle Donne, a Delaware high school National Player of the Year who played volleyball during her freshman year at UD in 2008, returned to the basketball court the following year and went on to lead the Blue Hens to their best season in school history last year. This season, which tipped off Nov. 9, marks her final year in a Delaware uniform.
The season began with disappointment as Delle Donne had a recurrence of Lyme disease symptoms that kept her off the court for the first three games, although she returned to play Nov. 20.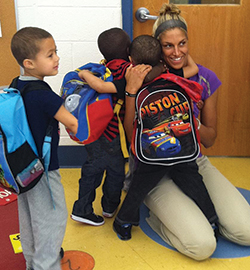 "Everyone knows the kind of outstanding player Elena is by watching her on the court night in and night out," Blue Hen head coach Tina Martin said when Delle Donne won the NCAA academic award. "But what makes winning an award like this so special is that it shows the kind of person and student she is off the court as well.
"Her commitment and work ethic to the game of basketball is exceptional, but she works every bit as hard on the academic side."
Delle Donne was just the second UD women's basketball player to earn a spot on the Academic All-American team, an award that is decided by the College Sports Information Directors of America, and is the first UD student-athlete in any sport to be named the Academic All-American of the Year.
As the team was preparing for the 2012-13 season last fall, Delle Donne described her undergraduate years as a balancing act in which class work, athletic competition and hands-on work in her field of study—in particular, with young children—all played key roles.
"I have been blessed with the opportunity to receive an unparalleled education at UD," she said. "Throughout my education I was not only privileged to have intelligent, experienced and passionate teachers, but I was also provided with several opportunities to apply what I have learned."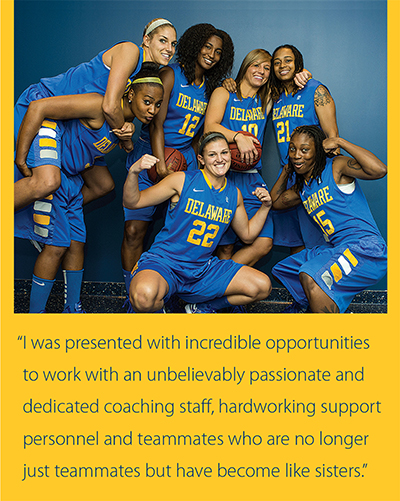 Photo above by Kathy F. Atkinson
Delle Donne, who expects to play for the WNBA after graduation, hopes eventually to establish a foundation and to use athletics to help children, particularly those with disabilities or who are at risk. In her own family, she is especially close to her sister, who has severe disabilities. Delle Donne said she views the combination of experiences she's had as a student-athlete as ideal preparation for the future.
"My years at the University have allowed me to spend time discovering how I can combine the things that I am most passionate about to benefit others," she said. "In addition to a professional basketball career, I also plan to utilize my basketball talent, combined with my human services degree, to improve the lives of children."
Basketball achievements
Delle Donne's national recognition as an Academic All-American is one of an extensive list of honors and accomplishments she's received during her Blue Hen career so far, beginning with her selection as the 2010 Colonial Athletic Association Player and Rookie of the Year. In October, she was a unanimous choice on the Associated Press preseason All-America team, receiving all 40 votes from a national media panel.
The 6-foot-5 forward led the nation in scoring last season by averaging 28.1 points per game and was a consensus first team All-American by the Associated Press, WBCA, USWBA, Naismith Award and John Wooden Award. She earned CAA Player of the Year honors for the second time in three seasons during the 2011-12 campaign.
Delle Donne is only the 15th player in Division I women's basketball history to eclipse the 900-point mark for a season. Already the Delaware career scoring leader, she entered her senior season ranked third in CAA history with 2,258 career points.
Delle Donne summarizes her playing time at UD as "a well-rounded, once-in-a-lifetime experience."
For updates, visit www.bluehens.com.
Photo of Elena Delle Donne at top by Ambre Alexander