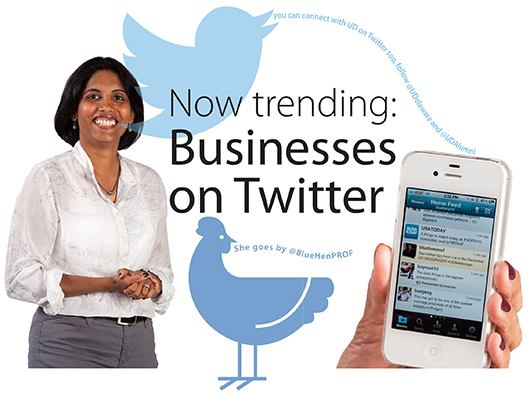 RESEARCH | She goes by the handle @BlueHenProf, but online Anuradha Sivaraman mimics the sounds of much smaller birds—tweet, tweet!
An assistant professor of business administration, Sivaraman requires students in her marketing classes to follow her on Twitter. There she posts news, marketing tidbits and information about the job market, social media and technology. Many of her 140-character nuggets bear hashtags marking them for her specific classes.
And her tweeting is getting results. Social Media Marketing magazine has named her to its list of top marketing professors on Twitter two years in a row.
When not teaching, Sivaraman advises small and medium-sized businesses on how to best utilize the social medium. Here, she shares some tips and insights for business owners navigating the Twittersphere.
Find out why you want it
Investigate your objectives. What are you trying to achieve? Are you trying to find out what people are saying about your business? Are you trying to support your customers? Are you trying to mine for prospects? Clearly define your goals.
Track your metrics
People think their Twitter popularity is determined by how many people follow them, but it's more than that. It's how many people retweet what you're tweeting. It's important that you share valid information that is new to your followers.
Analyze your metrics
Do you have the right kind of followers? If not, figure out how to attract the right kind. For instance, a branding consulting business should follow companies that need branding as well as competitor branding companies. You have to seek them out. According to the etiquette on Twitter, if you follow someone in your line of business, that person will follow you back.
Quantify your savings
Take customer service as an example. If addressing customer concerns via Twitter is reducing the number of calls to your customer service center, then you know Twitter is helping. Dell Computers and Southwest Airlines do this and are seeing results. Track, analyze and then repeat your action only if it is worthwhile.
Use it for customer feedback
Starbucks uses Twitter for customer feedback. Company researchers follow mentions of the Starbucks name and hashtags, collecting what customers are saying about the products and stores. We call these reports quick and dirty opinion polls.
Remember one caveat
This is only your online population. There are many Starbucks customers who drink the coffee but don't go online, and even among the online population, not everyone is on Twitter. It's only a small chunk of your customer base. Understand the kind of population that is giving you feedback and that population's personality.
Take note of the Twitter user's personality
It's young, educated and social-media savvy. Users are the kind of people who are also on Facebook and Pinterest. They want to tell the world what they are doing; they want to hear what the world is doing. I call them news junkies. They want information quickly. They want to be the first to know. People come to them for information. They are likely to be opinion leaders, and opinion leaders are very important for businesses.
Don't view this as a standard advertising medium
It's a good place to mention sales this week or a special event. It can replace email to do all that if you have enough followers, but it can't replace more traditional forms of advertising yet.
Dig in
Search the word "hashtag" along with keywords of topics that interest you. The relevant hashtags will pop up; search those hashtags within Twitter. Also search the names of people you know or admire within Twitter. Follow them. Then follow some of their followers, and a chain reaction will begin.
Editor's note: You can connect with UD on Twitter, too. For all the news and stories from campus and its faculty and students, follow @UDAlumni and @UDelaware or search #UDel and #BlueHens.