Research briefs
Study to keep roads, railways up to speed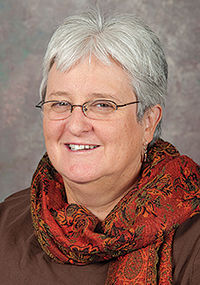 As the nation's roads and other infrastructure age, UD civil engineer Sue McNeil is leading efforts with Rutgers University to improve transportation systems in terms of maintenance, upgrading and design.
"Transportation infrastructure is critical to a healthy economy, whether you are looking at the local, state or national level," McNeil says, adding that the obvious example is the use of roadways and rail lines to move raw materials and products. But infrastructure also enables people to get back and forth to work, communicate, have packages delivered and take part in many other activities that fuel a strong economy, she says.
Rutgers' Center for Advanced Infrastructure and Transportation has received a federal grant to improve America's crumbling infrastructure. The Rutgers consortium, which includes UD, is focused on a "State of Good Repair" project with interest in safety and economic competitiveness.
Engineers at UD will conduct research on pavements, asphalt and bridges, but it's not just the materials and processes that are of concern, McNeil says; it's also larger issues such as how to incorporate catastrophic or disaster response into good repair planning.
"You can't just collect the data," she says. "It must be turned into information that can support decision models."
Treating back pain focuses on older adults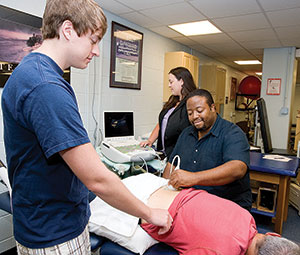 Photo by Kathy F. Atkinson
All low back pain is not created equal, and Gregory Hicks would like to find a way to better individualize care and improve clinical outcomes for older adults suffering from this debilitating condition.
Hicks, associate professor of physical therapy, has been awarded a five-year, $2.35 million grant from the National Institutes of Health to develop a comprehensive, standardized rehabilitation approach that is specifically designed to reduce pain and optimize function. Low back pain is the most frequently reported musculoskeletal problem among older adults.
"In this age group, from 60 to 85 years, low back pain has been associated with a host of negative consequences, including increases in mobility limitations, disability and the use of healthcare resources," says Hicks, who hopes his research will lay the groundwork for better evaluation and treatment.
"Although it's a risk factor for functional decline in the elderly, the majority of research studies addressing this condition exclude people over the age of 60, so clinicians have minimal evidence upon which to base their treatment decisions," he says.
Star search: Hubble assists UD astronomer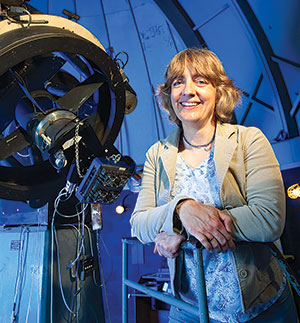 Photo by Kevin Quinlan
NASA has awarded Judi Provencal research time on the Hubble Space Telescope, and as you might imagine, the astronomer is over the moon about it.
"The telescope is so oversubscribed it is an honor to be awarded time to use it," says Provencal, assistant professor of physics and astronomy and director of the Delaware Asteroseismic Research Center. Her research focuses on dying stars called white dwarfs.
Since its launch in 1990, the Hubble Space Telescope has been floating above Earth at an altitude of about 353 miles. Research time is granted in "orbits," with the telescope orbiting Earth every 97 minutes.
Provencal will have 16 orbits on the Hubble and six stars to observe. Her first observations were scheduled to take place during the fall, with the full set taking about a year to complete. She's trying to determine the temperatures of the white dwarfs, which cannot be done accurately from the ground.
"The sun will become a white dwarf in a few billion years," Provencal says. "These dying stars tell us about previous generations of stars and so give us the history of the Milky Way Galaxy."
Currents carry crustaceans to colder quarters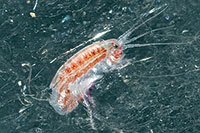 With sea ice in the Arctic melting to record lows in summer months, marine animals living there face dramatic changes to their environment. Yet some crustaceans, previously thought to spend their entire lives on the underside of sea ice, were recently discovered to migrate deep underwater and follow ocean currents back to colder areas when ice disappears.
"Our findings provide a basic new understanding of the adaptations and biology of the ice-associated organisms within the Arctic Ocean," says Mark Moline, director of the University's School of Marine Science and Policy. "They also may ultimately change the perception of ice fauna as imminently threatened by the predicted disappearance of perennial sea ice."
Moline and Norwegian colleagues found the crustaceans well below sea ice during a rare winter, nighttime research expedition to the Fram Strait and Eurasian section of the Arctic Ocean. They determined that the crustaceans migrate downward as part of their life cycles and ride deep-ocean currents toward the North Pole.
Their travels appear to be an adaptive trait that both increases survival during ice-free periods and enables them to be retained in the Arctic Ocean.
Artificial glands may ease cancer side effects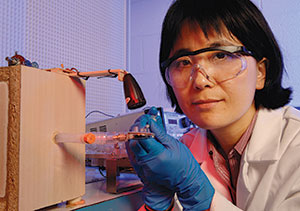 Photo by Kathy F. Atkinson
Xinqiao Jia, associate professor of materials science and engineering and biomedical engineering, is part of a research team breaking new ground in the creation of artificial salivary glands.
Funded through a $2.5 million grant from the National Institutes of Health, the researchers hope their work will lead to new solutions for xerostomia, or dry mouth, a side effect of radiation treatment for head and neck cancers. When such cancer patients undergo radiation, the treatment often destroys the saliva-producing cells. The resulting dry mouth can lead to severe dental issues, as well as difficulty swallowing, speaking and eating, and overall discomfort.
The four-year project is a collaborative effort with researchers at UD, Rice University and Christiana Care Health System.
In previous work, the research team developed methods for isolating and growing salivary cells in the lab prior to radiation treatments. "The goal is to help cancer survivors overcome dry mouth problems and improve their quality of life," Jia says.
Shipwreck found, identified off Delaware coast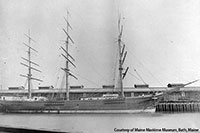 University researchers have discovered that a shipwreck near the coast of Cape Henlopen, Del., is a 215-foot-long sailing vessel destroyed by a hurricane more than a century ago.
Scientific surveys and historical records indicate that the wreck is the W.R. Grace, a three-masted ship that ran aground during a storm on Sept. 12, 1889, and was emptied of its contents before it was submerged.
Arthur Trembanis, associate professor of oceanography and geological sciences, and his research group came upon the shipwreck two years ago while training undergraduates to use remotely operated vehicles (ROVs) and other ocean surveying equipment. They were surprised to find that it was not included in a federal database of known shipwrecks.
The ship sits about seven meters below the surface and is covered in dense clusters of blue mussels and frilled anemones, forming an artificial reef similar to others built around Delaware Bay. With scuba diving treacherous because of currents in the area, ROV and sonar findings are being used to better understand the ocean dynamics that impact wrecks, compare the site to other reefs and study how the ocean floor changes over time.
"We're in an exciting time for this kind of exploration," Trembanis says. "In our own backyard are some exciting new discoveries."