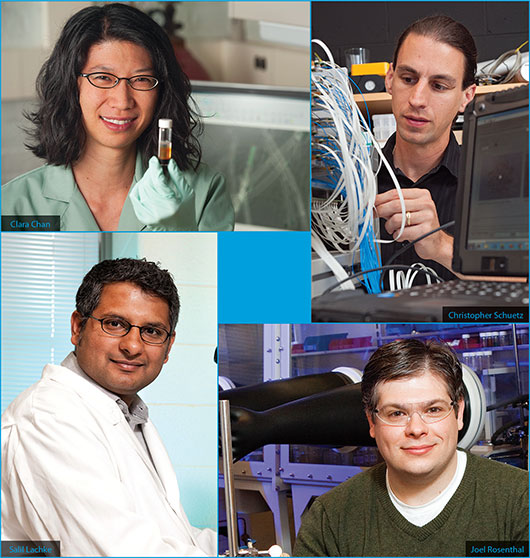 Research takes on challenges of health, environment, national security
RESEARCH | YFour assistant professors who recently earned highly competitive national awards are seeking ways to cure blindness and methods for converting renewable energy into liquid fuel. They're investigating metal-eating bacteria that produce rust in our groundwater and developing electronic devices to protect our troops.
Clara Chan, Department of Geological Sciences, received a Faculty Early Career Development award, the National Science Foundation's most prestigious honor "in support of junior faculty who exemplify the role of teacher-scholars."
Christopher Schuetz, a research assistant professor in the Department of Electrical and Computer Engineering, received a Young Investigator Award from the Air Force Office of Scientific Research.
Salil Lachke, Department of Biological Sciences, is the first UD professor to be named a Pew Scholar in the Biomedical Sciences by the Pew Charitable Trusts.
Joel Rosenthal, Department of Chemistry and Biochemistry, was recognized by the DuPont Young Professor program, which supports promising emerging talents in the field of chemistry.
Clara Chan
Patches of orange slime with an oily sheen are not uncommon sights along stream banks, often mistaken for pollution or decomposing leaves. In fact, the substance is made by metal-eating bacteria that create oxidized iron, or rust, naturally in the environment.
At UD, geomicrobiologist Chan studies the role of these rust-producing bacteria in water flowing both above and below ground. "Microbial iron cycling is important to understanding the chemistry of our waters," she says.
Certain bacteria get their energy by consuming iron, leaving behind iron oxide minerals as a waste product. In some settings, microscopic strands of the minerals form large orange mats resembling pumpkin pulp.
The bacteria tend to grow where iron from the soil has seeped into water, leading Chan to examine them in diverse environments. At a flooded mine in Wisconsin, she found that the bacteria were helping remove heavy metals from groundwater. She also is researching how they clog wells in a contaminated Colorado aquifer and is investigating the bacteria forming huge mats on the deep ocean floor where hydrothermal vents spew iron into the Pacific.
Chan will use her NSF award to study iron-oxidizing microbes that live in groundwater-soaked soil at two Delaware locations—a stream bank in White Clay Creek and the Indian River Inlet north of Bethany Beach.
Christopher Schuetz
The modern electronic battlefield is getting crowded, according to Schuetz, who earned master's and doctoral degrees in electrical and computer engineering from UD in 2005 and 2007.
The crowding, he says, is the result of an increasingly diverse set of threats over an expanding range of frequencies. This expansion has placed additional demands on modern electronic warfare receivers and sensors used to identify and classify the threats.
As missions become more challenging, the military must keep pace with systems that can perform tasks efficiently and with less size, weight and power. That's where Schuetz comes in.
"The military's next generation of aircraft are migrating to small, unmanned vehicles that cannot accommodate the same weights and payloads they have in the past," he says. "This is necessitating integrated systems that are increasingly capable of performing multiple functions within the same platform."
Schuetz's Air Force Young Investigator grant supports his work to develop advanced optical techniques that will enable next-generation electronic warfare devices for military applications. He proposes a new approach that collects radio-frequency radiation signals and converts them into optical signals, which use light to transmit information. The benefit, he says, is the ability to process and route signals using lightweight fiber optics and optical lenses.
Salil Lachke
Lachke is a biologist whose research is yielding new discoveries about the world's leading causes of blindness as he explores the molecular defects that cause eye disorders such as cataracts and glaucoma.
Normal vision depends on the development of elongated fiber cells in the eye that form the bulk of the lens. If these cells do not form correctly, the lens will turn opaque, forming a cataract that could cause blindness.
Lachke has identified a gene that, when mutated, can lead to cataracts and glaucoma in mice and in humans. The gene encodes a protein that binds to ribonucleic (RNA) messages—in particular, it recognizes RNA messages that encode proteins that are essential to create a transparent lens.
Lachke will use microscopy and molecular biology to detect the partners that interact with the gene and will determine whether the protein's ability to move these RNAs to specific regions is key to its role in lens development. He will also assess whether this system operates in the retina as well as the lens and whether its malfunction is responsible for retinal disease.
"Identifying new genes associated with eye diseases will help us understand how the eye develops and functions, in turn providing critical insights for regenerative therapies and targets," Lachke says.
Joel Rosenthal
The chemical giant DuPont selected Rosenthal for a Young Professor Award based on his research that involves transforming carbon dioxide into liquid fuel, which is an "area of interest" for the company.
"Getting the award means the chemists and engineers [at DuPont] find the work we are doing interesting and think it could be applicable to solve real-world problems and actually make an impact in industry," Rosenthal says.
He has already met with some DuPont chemists to discuss ways they can collaborate, including incorporating his catalysts into high-pressure reactors the company is designing.
A major thrust of Rosenthal's research group is designing catalysts that can capture carbon dioxide from the air and using renewable energy to convert it into a liquid fuel. This potentially helps solve a storage conundrum within the renewable energy sector.
While solar and wind energy can create large amounts of power, they do not provide a steady flow around the clock, the way coal-powered plants can. Storing the power that renewables generate could alleviate those worries. Rosenthal believes carbon dioxide-based liquid fuel could be the solution because liquid fuels have very high volumetric energy densities, far higher than batteries.
"It's a very, very attractive way to be able to store massive amounts of solar energy in a small space," he says.