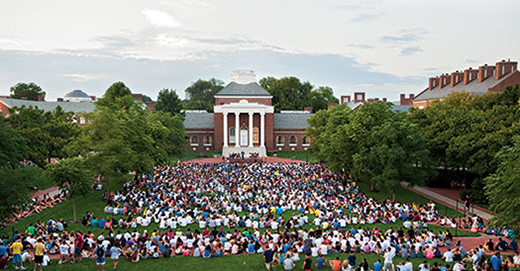 Photo by Evan Krape
Twilight ceremony welcomes new students to campus
ON THE GREEN | Members of the Class of 2016 began their academic and personal journeys as Blue Hens during an inaugural Twilight Induction Ceremony held on the South Green at the start of fall semester.
In his welcoming remarks, UD President Patrick Harker invited the freshman class to join a community of thinkers, dreamers, innovators and trailblazers during a journey that will see fruition at their Commencement on May 28, 2016.
"The great thing is that you're on this journey together, as a class, and that's going to make many of those months and weeks and days among the most memorable of your lives," Harker said. "You're Blue Hens now. You're connected to something bigger than yourself."
Being connected to a community that values excellence, that develops potential and that works for change also includes a commitment to fulfilling the mission and ideals of the University, he said.
"If I didn't think a group of smart, driven, passionate people could change this world, I wouldn't be in this job," Harker told the group. "I believe the reason I'm here is to ensure that you have everything you need—the knowledge and skills, the opportunities and resources—to make the change you want to see."
He also emphasized the University's commitment to diversity and inclusion in a welcoming community that supports critical thinking and freedom of speech and thought.
Nancy Brickhouse, interim provost, congratulated the incoming class on being the most academically accomplished in UD history and urged the freshmen to pursue a wide range of interests through discovery learning.
"I hope you think of your entire experience here as a kind of discovery learning, not just academically but personally as well," Brickhouse said. "That is the way to a truly enriching undergraduate experience, and I wish you every success."
The ceremony concluded with a moment of silence and reflection as students lit candles. An ice cream social featuring UDairy Creamery treats followed the induction.
Meet the Class of 2016
This year's entering undergraduate class consists of more than 3,800 students from 34 states, selected from a record 26,798 applicants for freshman admission, an 8 percent increase from last year.
Both diversity and academic achievement also are on the rise. Freshmen scoring 2100 or more on their SATs is up 4 percent over last year and 21 percent over four years ago. The Class of 2016 includes 56 percent more African-American students and 26 percent more Hispanic students than the Class of 2012.
Among the freshmen on the Newark campus this year are 14 percent more Delawareans than last year. They come from 54 high schools in the state, including a substantially higher proportion from Kent and Sussex counties.
Other new Blue Hens who joined the student body this year are 1,296 graduate students. Of that group, 30 percent are international students from 59 countries, bringing the total number of countries represented by UD graduate students to 90.
In all, 8,285 students applied for graduate admission this year, a 4 percent increase over last year and 47 percent more than four years ago. Among UD's 3,716 graduate students are 11 Fulbright Fellows and 13 National Science Foundation Graduate Research Fellows.