Teachers get help with climate change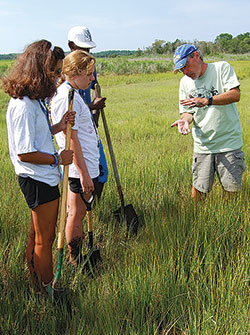 ON THE GREEN | Delaware and Maryland teachers will have new resources to integrate climate change science into their classrooms, thanks to a major initiative announced recently by the National Science Foundation.
The $5.8 million cooperative agreement supports implementation of the Maryland-Delaware Climate Change Education, Assessment and Research (MADE CLEAR) partnership, an effort to forge new ways to deliver effective and relevant climate change education that could serve as a national model.
The partnership brings together experts in the fields of climate science and education, led by the University System of Maryland and University of Delaware, to provide a system of support for teachers in the two states. Focusing on grades 8-12, the network will also engage universities, state departments of education and educators from natural resources agencies, museums and aquariums.
Climate change is a complex and sensitive topic to teach, touching on economic, social, political and scientific issues to a greater degree than most other science topics.
The MADE CLEAR partnership encourages scientists and educators to work together to ensure scientific objectivity and accuracy in the classroom and promote critical thinking. Rather than introducing climate change science as a new subject in an already crowded curriculum, the goal is to integrate understanding of climate change within new science standards and environmental literacy requirements in Maryland and Delaware schools.
"MADE CLEAR will support the development and distribution of teaching approaches and materials and evaluate their effectiveness," says Nancy Brickhouse, interim provost and professor of science education at UD. "In that way, we can not only strive for continuous improvement in our two states but also be a model for the nation."
The partnership brings together scientists who are engaged in various aspects of climate change research, ranging from atmospheric physics and chemistry to the effects of climate change on ecosystems and human health.