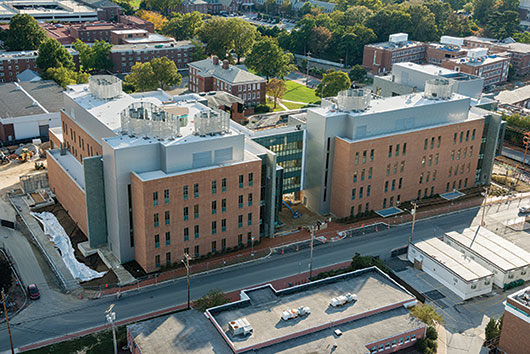 Laboratory building will strengthen teaching, learning, research
ON THE GREEN | As fall semester began, a focus of attention on campus was the Interdisciplinary Science and Engineering Laboratory (ISE Lab), now less than a year away from its scheduled opening and the recipient of a major gift from DuPont.
In August, the University announced a $5 million gift from the company to support construction of the 197,000-square-foot building at the corner of Lovett Avenue and Academy Street, the first major new laboratory to be built on campus in 20 years. In recognition of the company's leadership support, an instructional wing of the new facility will be known as the DuPont Science Learning Center.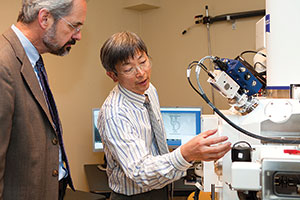 Photo by Ambre Alexander
"DuPont is excited about partnering with the University of Delaware to help further cross-disciplinary research and education as a cornerstone to UD's mission," says Thomas M. Connelly, the company's executive vice president and chief innovation officer. "We look forward to engaging the academically diverse and innovative young scientists and engineers who will look to complete their education here."
The University's goal is to raise $56 million in private funds to build the ISE Lab, which is designed to meet the critical need for increased and more flexible teaching and laboratory spaces. Rising enrollment coupled with UD's top-ranked programs in engineering and science have resulted in a shortage of such space. In recent years, for example, it has been common for laboratory sessions in chemistry, biology and physics to be held on weekends and until 11 p.m. on weeknights to accommodate the demand for introductory-level and required courses.
In addition to easing classroom overcrowding, the new building has been planned to usher in a contemporary approach to teaching science.
Since 1997, the University through its Institute for Transforming Undergraduate Education has earned international recognition as a leading expert in problem-based learning, an educational model in which students work collaboratively in small groups to solve complex problems.
UD's aim has long been to revamp its science and engineering curriculums to allow undergraduates to solve real-world problems using an interdisciplinary approach. With adaptable learning spaces designed to incorporate instruction, laboratory space and problem-solving sessions, the ISE Lab is a key element in the success of this plan.
"The problem-based approach asks students not just to cover material, but to uncover it for themselves," says George Watson, dean of the College of Arts and Sciences. "It elevates the level of discovery in the classroom through engagement with interdisciplinary real-world problems."
UD hopes to increase the number of science and engineering majors by actively engaging undergraduates in inquiry approaches that allow them to learn and apply scientific principles to solve real-life problems. This hands-on approach is intended to foster critical thinking skills, curiosity about the subject matter and collaboration across disciplines.
The ISE Lab already has played a role in a $198,000 grant to the University from the National Science Foundation, which will be used to develop an integrated seven-credit course for first-year science and mathematics education majors. The course, to be introduced next fall, will utilize the classrooms in the building designed specifically for the kinds of problem-based learning that will distinguish the new curriculum.
"Our goal is to offer the next generation of teachers new models and innovative training experiences," says Stephen Bernhardt, a writing professor and the grant's principal investigator. The new curriculum would replace traditional lecture formats with problem-based and peer-led learning exercises that would instead focus on "big questions and understandings in math and science," he says.
In addition to the teaching and instructional spaces in the DuPont Science Learning Center, the ISE Lab will house a research wing that will provide the most advanced scientific equipment and laboratory spaces available. These facilities include a nano-processing clean room, an imaging and microscopy suite, a synthesis lab and an advanced materials characterization lab. UD officials say such resources will allow the University to recruit and retain the best and brightest of the scientific community as well as secure future federal and private funding for research across scientific areas.
The research wing of the ISE Lab will also address global issues of environmental sustainability and alternative energy sources by housing three UD institutes focused on those topics: the Catalysis Center for Energy Innovation, the Delaware Environmental Institute and the UD Energy Institute.
Article by Shannon H. Pote