Assistive technology benefits users, students, researchers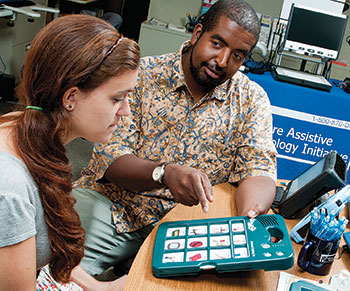 Photos by Lane McLaughlin
ON THE GREEN | A center where people can come to borrow devices that use technology to help them cope with mobility, sensory, cognitive or communication limitations is now operating on the UD campus.
The New Castle County Assistive Technology Resource Center is part of the Delaware Assistive Technology Initiative (DATI) at UD's Center for Disabilities Studies.
Since it was established in 1991, DATI has helped to bring about improvements to assistive technology access and use through research, training and leadership, says Lynn Okagaki, dean of the College of Education and Human Development, where the disabilities studies center is housed. The initiative also provides key services including equipment demonstration, equipment loan, alternative financing and device reuse, she says.
"This is a tremendous resource for our citizens, helping provide them the tools they need in order to learn, work and play safely and independently, often at reduced or no cost," Okagaki said at the opening of the new resource center last May.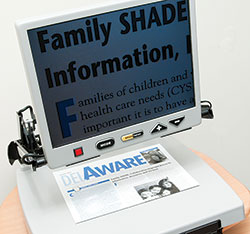 "Having the [resource center] relocate to the Center for Disabilities Studies will also provide a tremendous resource for the University and the College of Education and Human Development. We are identifying ways to better integrate class work and field experience, to ensure our students are well-prepared as they enter their chosen field."
Now that DATI is on campus, she said, it will be easier for its staff to teach graduate and undergraduate courses, such as those dealing with the use of technology and assistive technology in early childhood; provide guest lectures in courses across campus; support students interested in working with individuals with disabilities by offering experiential learning, including extended internships; and provide access to assistive technology equipment for projects, class demonstrations and personal use.
Devices available in the resource center include toys that play music or light up to provide sensory stimulation for young children, telephones with special displays or amplifiers for users who have difficulty hearing, computers with extra-large and colorful keys for people who are visually impaired and communication devices that "speak" when the user pushes a button to convey a particular message.
Marvin Williams, assistive technology specialist in the center, notes that people often consider a device to be assistive technology only when it is expensive. But he says he finds it challenging and fun to find a solution for somebody's needs by using "something that's already out there," including mobile devices used by the general population and toys once considered high-tech that are now readily available on discount store shelves.
Among members of the UD community who plan to make use of the resource center is Cole Galloway, associate professor of physical therapy. He says physical therapists view their work as a way to empower people to increase their functionality, but they don't often think of assistive technology in this way. The new center on campus will change that view, he predicts.
Galloway describes assistive technology as a "power chassis" that fits in with the daily functioning of all individuals as well as the academic mission of the University.
Kevin Chang, a student who is president of UD's Biomedical Engineering Interest Group, attended the center's open house with plans to work with the staff to develop a hands-on project "to see the effects of what we do" in biomedical engineering.
Article by Michele Sands