ON THE GREEN NEWS BRIEFS
Roof is green in more ways than one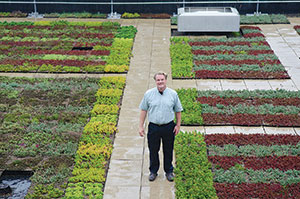 Photo by Danielle Quigley
The first environmentally friendly green roof to be installed on a UD classroom building was marked by a celebration Sept. 28 atop Colburn Laboratory, where 4-inch-deep plantings now provide an insulating effect.
"It's great to see horticulture—and I'm speaking as a horticulturist now—come to the intersection of engineering and art," Mark Rieger, dean of the College of Agriculture and Natural Resources, said at the celebration. The project was made possible by grant funding and some creative engineering by the landscape design program.
About 600 engineering students take classes in Colburn Lab's one-story classroom wing, where indoor temperatures have been known to reach 86 degrees due to heat transfer from its southern exposure, wide expanses of glass and flat roof. Installing reduced-wattage lights, ventilation maintenance and other measures failed to lower temperatures sufficiently.
The new green roof offers a variety of environmental, educational and cost-saving benefits including a reduced need for heating and cooling in the building, which lowers carbon dioxide emissions and prolongs the life of the current HVAC systems; a sponge effect, in which the plants absorb storm water runoff to the surrounding area; and an opportunity for students to get hands-on experience in growing the plants and in using green engineering methods in a living classroom.
Judge's verdict: Persistence pays off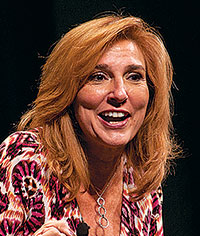 Judge Marilyn Milian, who made the move from Miami's Circuit Court to the People's Court to become TV's first Latino judge, spoke on campus in October about the importance of overcoming limitations.
"People always ask me how I got this job," said Milian, who spoke as part of the Latino Heritage Month Extravaganza at UD. "It was a mixture of luck, timing and reckless abandon."
When first approached about People's Court, Milian, who is of Cuban heritage, flew to New York to audition. She said she was told that she was "not Latino enough," but, undeterred, she went in for a second audition and got the job.
"Don't ever let anybody put a ceiling on you or paralyze you with fear," said Milian, adding that regardless of race, gender or beliefs, everyone experiences limitations placed on them by others.
Speaking later with UD students, she said she loves her TV work because she can educate people all over the nation about law and share Latino culture at the same time.
Renovations reveal writing in the wall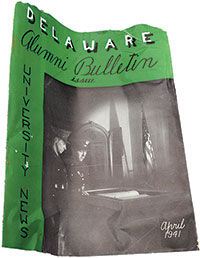 A backhoe operator working on renovations to the Carpenter Sports Building in August came across a box full of mementos inside a wall of the building commonly known as the "Little Bob."
The copper and lead box was a time capsule containing University materials from 1941 to 1967, including results of the 1941-42 athletics season; a 1950 penny; various football programs, including a brochure (which sold for 15 cents) from the Sept. 27, 1941, West Chester game, the first contest with UD in a series that ended just this year; and various publications, such as Newark, Wilmington and UD student newspapers from 1942 and alumni bulletins (right) and a freshman handbook, all from 1941-42.
The capsule was originally placed in the building during construction in 1941. During renovations in the 1960s, when the curve to the entrance was created, more items were added and the capsule was replaced in the wall.
"We would like to create a poster of the contents and put the box on display in the Little Bob," Jake Olkkola, associate athletic director, says. "The contents will be placed in a new time capsule, with items from 2012, and put back into the wall."
Generous donors set another record
High temperatures weren't the only things breaking records last summer.
Donors contributed $61,173,804 to UD in fiscal year 2012, exceeding by more than $10 million the annual contribution goal set forth by the University's Board of Trustees and marking the second consecutive year of record-setting support.
"Our University continues to deepen its impact, thanks to the generosity of University of Delaware alumni and friends," President Patrick Harker said in announcing the donation totals. "Private gifts are the catalyst that allows us to recruit outstanding faculty, provide scholarships and greater access to students of all backgrounds and circumstances, and research the pressing issues of our global society."
Compared with the previous year, contributions to the University increased by 19 percent.
Among the year's major donors were Edmond Sannini and Concetta Frezzo of Summit, N.J., both BE78, who made a gift to establish the Sannini Frezzo Scholarship to benefit Delaware residents enrolled in the Alfred Lerner College of Business and Economics. Sannini also recently volunteered to serve on the college's Advisory Council.
"Since we are both alums of the Lerner College, long before it was called the Lerner College, it was a natural fit for us to establish a scholarship so that a student from Delaware could have this exceptional educational opportunity," Frezzo says.
Anyone wishing to make a contribution to UD can contact Beth G. Brand, associate vice president of development, at bgbrand@udel.edu or (302) 831-2104.
Engineering dean wrote notable lyrics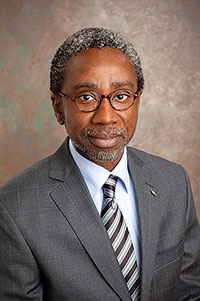 What does Babatunde Ogunnaike, interim dean of the College of Engineering, have in common with a calypso singer, a home renovator and an anesthesiologist? All four are national anthem authors—in fact, co-authors of the same national anthem.
Ogunnaike, who is the William L. Friend Chair of Engineering, contributed words to Nigeria's national anthem as part of a competition in 1977, as the country emerged from years of civil war.
When the 21-year-old student saw some of the initial entries in the newspaper, he was not impressed and submitted one himself. Soon after, he left Nigeria for the United States but heard that some of his words had been incorporated into the final lyrics of the song, Arise, O Compatriots. His share of the prize totaled 50 naira, or about 31 cents.
Now a member of both the Nigerian Academy of Engineering and the National Academy of Engineering in the U.S., Ogunnaike has an impressive resumé documenting his work in process and systems engineering. But he still lists the anthem in his dossier and says he feels both pride and sadness when he hears it.
"It reminds me of unfulfilled promises," he says. "Nigeria has so much potential, and the words of the anthem were meant to reflect this."
Train station on track to spur growth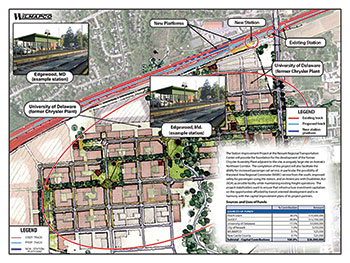 A $10 million federal grant will fund the Newark Regional Transportation Center Station Improvement Project, to be located on the University's Science, Technology and Advanced Research (STAR) Campus.
The grant award, announced in June, will improve the Newark Train Station into a multi-modal hub, while maintaining or expanding the operations in the adjacent freight rail yard, and will serve as a development catalyst for the STAR Campus, planners say. The new station will improve passenger safety with grade-separated access to the new platform, will advance Americans with Disabilities Act compliance and will allow for new ticket windows and vending machines.
The project is part of a larger development plan being led by UD at the STAR Campus, which calls for a health sciences complex with the College of Health Sciences and a Bloom Energy manufacturing facility, as well as retail and residential space.
The Newark station was selected for funding by the federal Department of Transportation in a competitive evaluation process that took into account the potential for the project to improve mobility, boost economic growth and reduce environmental impacts.