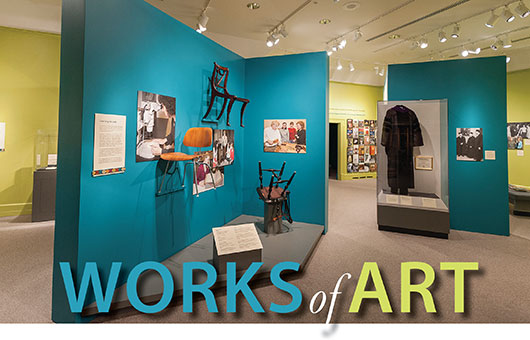 Winterthur Museum is hosting an exhibit that showcases what its curator calls the museum's "amazing collaboration" with the University in educating graduate students for the past six decades.
A highlight of "A Lasting Legacy: Sixty Years of Winterthur Graduate Programs" is the emphasis on the achievements of alumni, who have made their mark in virtually every major museum in the world.
The exhibit, which runs through June 16, traces the history and impact of the University's Winterthur Program in American Material Culture (WPAMC), which began in 1952, and the Winterthur/University of Delaware Program in Art Conservation (WUDPAC), which will mark its 40th anniversary in 2014.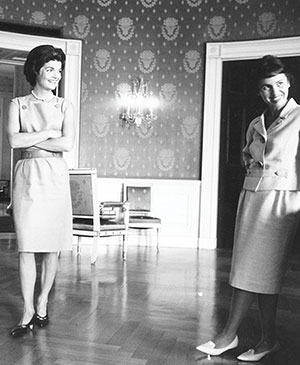 "There is a beautiful fit between the two programs, because both are rooted in the study of objects and because you need both types of professionals to run a museum and to do great things," says Brock Jobe, professor of American decorative arts and, with three students, the curator of the exhibition.
"There are other art conservation programs and other art history or museum studies programs, but nowhere else is there the collaboration of the two — combined with such amazing access to a collection like Winterthur's."
As work began to plan an exhibit celebrating the material culture program's 60th anniversary, Jobe says, those involved realized that no public presentation had ever celebrated both programs together. With WUDPAC approaching its 40th year, this seemed like the right time for a joint exhibition, he says.
Over the years, a total of about 830 students have graduated from the two programs, and the curators of the exhibition managed to track down almost all of them. They are working in 41 states in the U.S. and in eight other countries, in positions such as museum directors, curators at historic sites, art conservators, consultants, professors and authors or editors.
"When you look at the two programs, their influence is really felt around the globe," Jobe says. "There isn't a major museum where one of our art conservation or material culture graduates isn't working."
A continuing video with brief comments from 100 alumni discussing their education and careers can be viewed at the exhibition, and a wall of book and magazine covers shows the scholarship that program graduates have contributed to their fields.
That kind of professional impact was an early goal of the material culture program. Its origins coincide with the decision of Henry Francis du Pont to open his home and estate, Winterthur, to the public in the early 1950s as a museum. It was decided that managing such an undertaking, as well as caring for and displaying du Pont's extensive collection of art and decorative objects, would require a staff of trained museum professionals.
Du Pont, Charles F. Montgomery (Winterthur Museum's first director) and UD President John Perkins agreed to collaborate and create the material culture program to educate professionals for the staffs of Winterthur and other museums.
In addition to tracing the history of both programs and featuring their alumni, "A Lasting Legacy" highlights the kinds of work done by students in hands-on classes and field internships. Displays include conservation work carried out on paintings, tapestries and other items, as well as samples of furniture, silverware and other objects the material culture students examine to understand the context of how and why they were made in a particular way.
Jobe developed "A Lasting Legacy" with alumni Lauren Fair, a 2010 WUDPAC graduate and assistant conservator at Winterthur; Nalleli Guillen, a 2011 graduate of the Winterthur Program in American Material Culture; and Kati Schmidt, a 2012 graduate of the material culture program.
Donors included UD's Office of Graduate and Professional Education; the American Decorative Arts Forum; David W. Dangremond, a 1976 graduate in Early American Culture; The Decorative Arts Trust; Jonathan B. Loring; Tru Vue Inc.; and the Washington Decorative Arts Forum, in addition to more than 125 alumni of the programs.
Article by Ann Manser, AS73