Where's YoUDee?
Traveling the world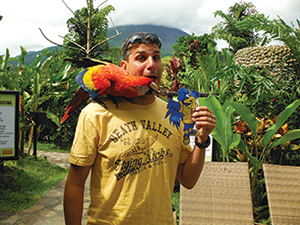 ALUMNI | The Office of Alumni Relations recently launched "Where's YoUDee," asking alumni to take a paper version of the University mascot with them on their travels, pose YoUDee for a photo and then share the results on the alumni website and Facebook page.
As it turns out, YoUDee's been quite a world traveler in recent months. In September, for example, the mascot joined Bill Vaughn, AG61, and Judy Vaughn, EH60, in China, accompanying them on a tour that included the Great Wall. "Whenever we get the urge, we just get up and go," the Vaughns say about their love of travel. "We're in our 70s, but we're kids at heart." (See photo below.)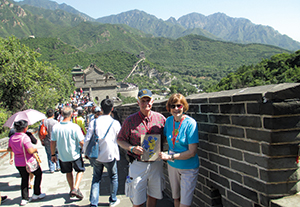 Bill Vaughn describes the Great Wall as "awesome" and says he will never again complain about traffic in the United States after driving in Beijing.
The visit to China came shortly after YoUDee went to Costa Rica with Brian Linden, AS99, where the Blue Hen was photographed (above) meeting a feathered friend in the town of La Fortuna. In the background is the Arenal volcano.
Any Blue Hen who wants to join the fun of traveling with the University's award-winning mascot can see an assortment of photos and also download the image at www.UDconnection.com/wheresyoudee. Follow these steps:
• Choose a place for the photo, from your own neighborhood to a vacation resort on the other side of the globe.
• Cut out YoUDee's photo and pose the mascot in your location of choice.
• Snap a few high-resolution photos, including yourself if you like.
• Share the photos by emailing them, along with your name and class year, to alumnet@udel.edu, and post them on the Alumni Relations Facebook page at www.facebook.com/UDalumni.