Alumni, students set aside a day to serve
ALUMNI | Current and former students joined forces with nonprofits across the country Sept. 22 for the fourth annual UD Day of Service.
The University's mission statement calls for graduates to be "prepared to contribute to a global society that requires leaders with creativity, integrity and a dedication to service." With that dedication to service in mind, the offices of Residence Life and Alumni Relations partnered with regional alumni clubs to bring some 120 alumni and friends together to donate their time and talent in 15 cities. At the same time, more than 200 students volunteered on campus.
Organizations that benefited from the Day of Service included Cradles to Crayons in Boston; the Greater Chicago Food Depository; Delaware Seashore State Park in Dewey Beach, Del.; The Food Bank in Milford, Del.; Habitat for Humanity in Sussex County, Del.; Whatcoat Shelter in Dover, Del.; the Lancaster (Pa.) General Health Blood Drive; Castle Hills Park in New Castle, Del.; Washington Heights Mobile Market in New York City; The Hoboken (N.J.) Shelter; Schuylkill Center for Environmental Education in Philadelphia; Bon Secours Hospital in Richmond, Va.; and the American Red Cross in Washington, D.C.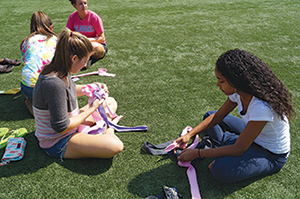 Stefanie Spatola, AS06, alumni club coordinator, explains that with more than 157,000 alumni worldwide, the decision to involve this group was a natural one. "We wanted to expand the program to include alumni and the charitable organizations in their respective cities," she says. "It was great to see so many Blue Hens come together to achieve a common goal in the spirit of service."
Lindsey Timberman, BE04, president of the New Castle County Alumni Club, says that spirit of service was apparent at her club's service project at Castle Hills Park. "The number of proud Blue Hen alumni in attendance is always strong," she says. "Seeing this makes me even more honored to be a part of the UD Day of Service."
In addition to the alumni-led service projects around the country, several service "hubs" were set up on campus in Newark, where students and alumni worked on projects for Emmaus House; Friends of White Clay Creek; Center for Disabilities Studies; Girl Scouts; Cancer Treatment Centers of America; Lori's Hands; Newark Manor Nursing Home; and Nemours/Alfred I. duPont Hospital for Children.
"It's heart-warming to see all the good work that is being done across campus," says sophomore Amanda Mouser.
Gina Donato, associate director of reunions and student programs for the Alumni Relations Office, says that the students on campus were excited to work side by side with alumni to make a difference in their community.
"Delaware is a second home for our students, so they were eager to help out at the service hubs to make a difference for others living here," she says. "It was wonderful for the students to see that when they graduate they will also have opportunities to serve in their communities with fellow classmates from UD."
To view photos from the UD Day of Service, visit www.flickr.com/UDalumni.
Article by Melissa Cox, AS05