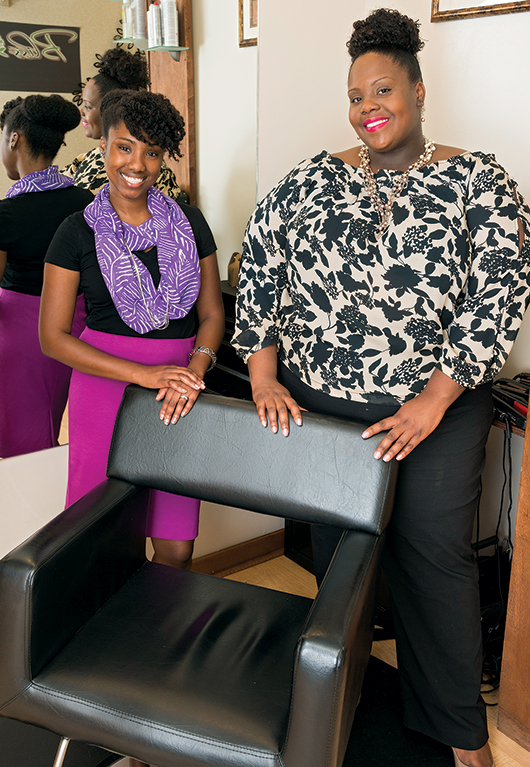 Photo by Evan Krape
The naturals
Friends put heads together in business
ALUMNI | When Tywanda Howie and Latoya Watson decided to start their own business, they really used their heads. More precisely, they used their hair.
The two graduates from the Class of 2004 had individually joined the natural-hair movement—an increasingly popular trend among African-American women who choose to forgo chemical straightening products—and were sharing their experiences through blogs and e-newsletters. After discovering each other's online outreach efforts, they rekindled their college friendship and soon recognized the opportunity for an entrepreneurial venture.
"We saw that in larger cities like New York and Philadelphia and Atlanta, events were happening where women who were interested in natural hair could come together and learn from each other and have fun," Howie says. "We thought Delaware women should have that, too, and so we formed a bona fide business to plan those kinds of events here."
Through the business, Delaware Naturalistas, she and Watson have hosted events for other women looking for natural hair and beauty alternatives. These "meet-ups" have included workshops and demonstrations at beauty salons and women's health fairs. Going natural means much more than skipping chemical products; women learn new ways of styling their hair, which might include using rollers or twisting strands to form loose or tight curls, and become familiar—often for the first time in their adult lives—with what their untreated hair is like.
Salons and beauty-product retailers became interested in what the Naturalistas were doing, Howie says: "They knew we had a pulse on a specific niche market."
Last spring, the two women hosted their largest event, an expo that drew 35 vendors and some 400 attendees to a day of workshops, live entertainment, demonstrations and networking. In addition to those selling hair and cosmetic products, Watson says, vendors of such accessories as scarves, hair wraps and jewelry recognized the marketing potential of the natural hair community.
The expo included health-related topics as well, including the importance of exercise—and tips for working out without requiring major hairstyle repair afterward.
"When people start thinking about not using chemicals on their hair, they start thinking about a lot of other natural products and healthy lifestyle choices, too," says Watson, a mother of two who stopped using chemical relaxers on her hair when she and her husband first decided to start a family.
The expo was promoted largely through the Naturalistas' Facebook group. What had started in August 2011 as a group of 20 friends sharing their experiences in going natural quickly grew and now numbers about 2,000 fans.
Plans are under way for a second expo this spring or summer, and Howie and Watson are continuing to lead smaller workshops and get-togethers at various locations.
Article by Ann Manser, AS73 and Lauren Pitruzzello, AS13