Soldier's mom answers call to serve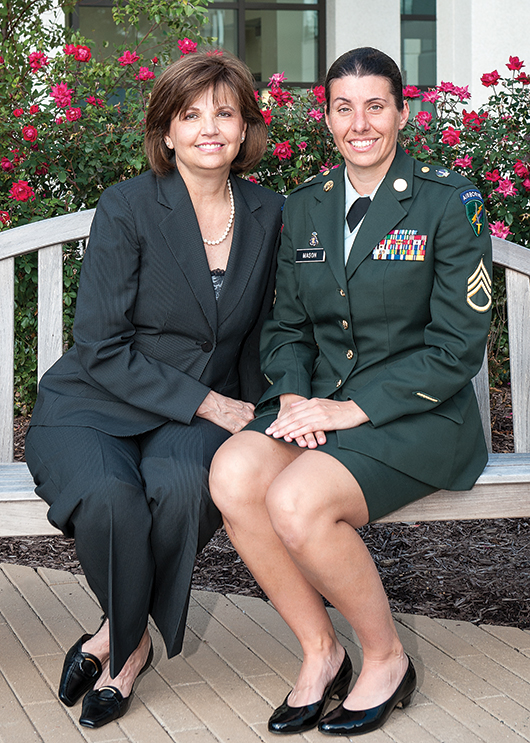 Photo by Charles Lee
ALUMNI | When Stefanie Mason was deployed to Afghanistan in 2004 with the Army Reserves, she asked her mom to volunteer with the Family Readiness Group in Wilmington, Del. Thus began Paulette Mason's volunteer work in the military, which took a frightening turn in April 2010 when Stefanie was critically injured in Kabul, Afghanistan, suffering nine skull and facial fractures, a traumatic brain injury and a fractured knee.
Until that day, Paulette Mason had enjoyed a diverse career in drug research, communications and journalism for several Delaware companies, including Wheeler Wolfenden & Dwares, AstraZeneca, DuPont and The News Journal. With a 1987 bachelor's degree in communication, she also had dreams of returning to UD to pursue a doctorate in psychology.
But when Stefanie was rushed to the old Walter Reed Army Medical Center in Washington, D.C., for surgery and later treatment, her mother put aside her career to care full time for her daughter and to advocate for the rights of all wounded warriors and their families. Today, she continues to oversee her daughter's medical care and rehabilitation plans at the new Walter Reed in Bethesda, Md.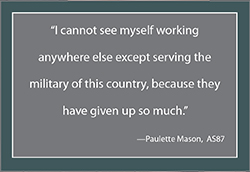 "There is still a long road ahead to recovery, but Stefanie is focused and determined to overcome her disabilities," Mason says. "I am supporting her in every way possible on this challenging journey."
From 2009 to 2011, she served as chair of the Employer Support of Guard and Reserve (ESGR) Delaware Committee, as well as on the National Strategic Planning Committee for ESGR. Dennis M. McCarthy, assistant secretary of defense for reserve affairs, nominated her for a national board, and in September 2011, she was appointed to the Reserve Forces Policy Board. That group advises the Secretary of Defense on strategies, policies and practices designed to improve and enhance the capabilities, efficiency and effectiveness of the military's reserve components. Mason serves as chair of the board subcommittee that supports service members, families and employers.
During her time on the ESGR and now on the policy board, she has worked to help employers understand and comply with the 1994 federal law that protects the employment rights of soldiers and guarantees that an employer cannot fire or lay off a soldier based on his or her absence while on military duty.
"Many employers were unaware of this law," Mason says. "Through our outreach efforts and the help of many citizen volunteers, we worked to create awareness and recognize employers who supported service members. Our volunteers unselfishly gave of their time to serve our country and our warriors."
With wars ongoing in Afghanistan and Iraq, members of the National Guard and Reserves, which make up 48 percent of the active military, were pushed to their limits on all fronts—in the battlefield, in their homes and in their civilian jobs and careers. To Mason, the support of soldiers' employers, from small businesses to large corporations, is imperative to the success of the military and to national security.
With the directive to draw down troops in Iraq and the promise to do the same in Afghanistan, the nation's veterans and their families face new challenges, she says: fewer jobs, a stagnant economy and an irrational fear among some employers that soldiers could be liabilities to their businesses due to real or perceived disabilities.
"Employers have said to me, 'I would never hire someone in the National Guard or Reserves because it would disrupt my business.' You would hope than an employer would have a heart and open up their mind to hiring a veteran," she says. "If you consider the scope of skills they have—timeliness, technical skills, leadership, discipline—you hope that employers would see those qualities, and not a disability."
Mason does not know what the future holds for her and her family, but she says that wherever she lands, it will involve helping soldiers and their families and working to improve the system. "I cannot see myself working anywhere else except serving the military of this country, because they have given up so much," she says.
She lives in Delaware with her husband, Allen Guizzetti, BE75, an employee of W.L. Gore and Associates. Stefanie's twin sister, Jennifer, works in the fashion industry in New York.
Article by Melissa Cox, AS05