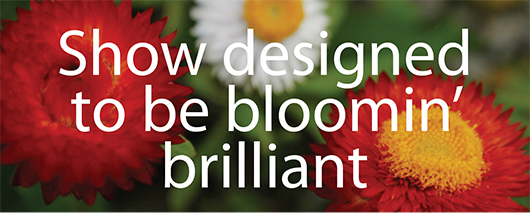 ALUMNI | When the Philadelphia International Flower Show's "Brilliant!" opens on Saturday, March 2, Sam Lemheney will be on hand making sure that visitors enjoy the sights and scents of summer in the midst of an East Coast winter.
Lemheney, AG91, director of America's oldest and largest indoor flower show, has been in charge of designing the annual event for eight years. In a talk on the UD campus in the fall, the former plant science major described what it takes to turn 10 acres of the Pennsylvania Convention Center into a world-class horticultural extravaganza.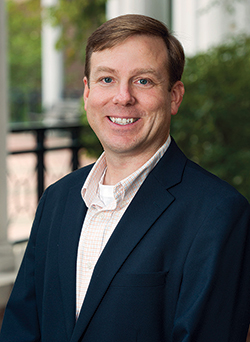 Sponsored and managed by the nonprofit Pennsylvania Horticultural Society, the show has built on a legacy that began in 1829 and today has blossomed into an attraction that draws nearly 300,000 visitors annually. Each show has a theme, and this year's focuses on English gardens.
"Each new show combines a lot of the old traditions with cutting-edge flowers and garden designs—different, but with similar classes of plants and flowers on display," Lemheney says. And, he adds, meeting the high expectations of visitors of all ages each year demands a commitment to outstanding design and floricultural and arboricultural excellence.
"Getting tulips to bloom during the first week of March takes a combination of science and art," he says. "We have built the show into a powerhouse brand across the United States that has the same impact on the flower industry as the New York City Fashion Week has on the fashion industry."
What Lemheney calls the "wow" aspect of the show is important to visitors but also to those who put the event together.
"I thought I knew what passion for my work was before I got to the Philadelphia Flower Show," he says. "Nothing can match the passion and energy and time that our staff and volunteers have for horticulture."
The logistical challenges tackled by the staff of the Philadelphia Horticultural Society and its 3,500 volunteers include hauling in 2,000 yards of mulch (that's 30 tractor trailer loads) and 18 truckloads of stone and block, all driven right onto the convention center floor.
"We couldn't do it without our volunteers," Lemheney says. "It takes us 10 days to set up and three days to tear down the show and make it look like we had never been there."
As the Philadelphia Horticultural Society's largest fundraising event of the year, the show benefits a host of programs, including community gardens, the city harvest program and vacant land management programs.
Article by Jerry Rhodes, AS04