Innovation guides technology from initial concept to final product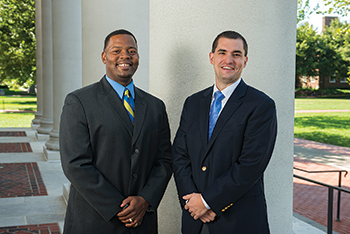 Photo by Evan Krape
ALUMNI | At the Lockheed Martin Corp., two UD alumni are working together on the frontiers of technological innovation.
Charles Johnson-Bey and David Pustai, who earned their doctoral degrees in electrical engineering in 1994 and 2004, respectively, are leading Lockheed Martin's new programs on innovation. Working in the Technology and Innovation Group, they focus on leveraging the best ideas and expertise from anywhere in the world and integrating them into the company.
Johnson-Bey, the manager of the company's Open Innovation program, works with external projects and partners, including U.S. national laboratories Sandia, Oak Ridge and Lawrence Livermore, as well as the GE Global Research Center and other world-class facilities.
He is collecting information on the labs' research priorities and comparing them with Lockheed Martin's needs in order to create a broad strategy of technology transfer—capturing, generating and synthesizing the best ideas and developing them into commercially viable products and systems.
Cross-pollination and collaboration are key to the company's innovation programs and are skills that his graduate studies helped him develop, Johnson-Bey says.
"My time at UD fed my own natural inquisitiveness. It provided a strong foundation in engineering and the importance of working across disciplines and separate organizations to achieve a solution," he says. "Currently, the Open Innovation program has a number of projects that range from a variety of technologies like quantum computing to particle image velocimetry."
About three hours north of Lockheed Martin's Bethesda, Md., headquarters, Pustai works in the company's Information Systems & Global Solutions business area in Pennsylvania, leading a team that develops breakthrough technologies and new business models. As the manager for the Innovation and Advanced Research and Development program, he champions innovation and collaboration both within and outside the company. One of the latest products he has introduced to Lockheed Martin is a cloud-based mechanism for collaboration in an environment where people are globally dispersed.
"We live in a society that is becoming increasingly dispersed and diverse.… Effective and efficient collaboration generates new innovations, increased cost savings and ultimately growth," Pustai says. "In breaking down organizational barriers, we are enabling dynamic cross-pollination to provide precisely the right solutions to customers. That's what excites me."
Lockheed Martin, a leading global security and aerospace company, created its innovation programs in response to increasingly complex customer demands. Historically, research and development methods worked like a funnel, with ideas fed into the top and emerging as products below.
The new strategies led by Johnson-Bey and Pustai instead create a model that captures ideas from a variety of sources and uses them in new ways, making the movement between concept and execution more fluid.
"I was very fortunate, while at the University of Delaware, to be a part of [Prof.] Dennis Prather's large research group, where I had the opportunity to work in both the theoretical/modeling and experimental teams," Pustai says. "The lessons I learned in helping to connect these two camps have proven valuable in driving collaboration for innovation at this much larger scale."
Johnson-Bey completed both his master's and doctoral degrees at UD, where he remains involved as a member of the Electrical Engineering Advisory Committee. The committee meets regularly to help incubate new ideas and provide guidance on ways forward in electrical engineering.
Pustai has authored more than 30 publications, holds a U.S. patent and has been an invited speaker at numerous technical and academic conferences, most recently as a plenary speaker at the Industrial Research Institute's Member Summit.