Homecoming 2012
Homecoming activities fill a spirited week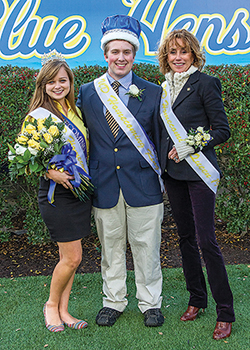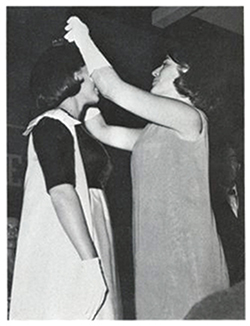 The University celebrated a spirited Homecoming 2012, with a 47-24 victory by the Fightin' Blue Hens football team over the University of Rhode Island and the revival of the Homecoming Court tradition.
For the first time in 15 years, UD crowned a Homecoming king and queen. Following weeks of intense campaigning by the six men and six women of the court, and online voting by the student body, seniors Sam Katz and Jennifer Lowe were selected.
The winners were crowned by Valerie Biden Owens, a member of the Class of 1967 who was the 1965 Homecoming queen.
For a full week leading up to the Oct. 20 football game and halftime activities, various Homecoming events were held around campus. They included:
• Battle of the Blue Hens. Student organizations competed throughout Homecoming Week, as members of groups attended numerous events across campus. The three groups with the highest attendance were Gamma Sigma Sigma, first place; Alpha Epsilon Phi, second place; and Alpha Xi Delta, third place.
• Blue Hens take to Main Street. More than 250 alumni attended the Office of Alumni Relations' Blue Hens on Main event for a nostalgic night with friends on Main Street. Before hitting the restaurants in town, Blue Hens met and mingled in the Trabant University Center for snacks and entertainment, reconvening there at the end of the event for a late-night breakfast.
• Spirit Celebration. On Friday, Oct. 19, hundreds of students, faculty and staff gathered in the Trabant University Center for a Spirit Celebration. UD President Patrick Harker and UD Alumni Association President Darelle Lake Riabov, a 1973 alumna, were in attendance, as were mascots YoUDee and Baby Blue, the Homecoming Court and dozens of student groups.
• Banner and Spirit competitions. Homecoming banners were designed and submitted by 24 student groups and five of the Homecoming Court nominees. The Rodney B4 Buddies were voted the winners of the banner competition. The Student Centers Programming Advisory Board took home the prize for best spirit skit, and HOLA won best overall skit and banner.
• Dare to Show More Spirit. For a fourth year, University faculty and staff submitted photos of their colleges, departments and units in a contest to determine which UD employee group had the most spirit. Among the 20 entrants, the People's Choice Award went to the UD Honors Program, while the UD Alumni Association President's Choice Award was given to the Carvel Research and Education Center in Georgetown.
Article by Melissa Cox, AS05
Award recognizes student ambassador's contributions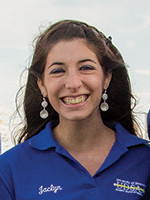 Jaclyn (Jackie) Weisberg, a senior communication major from West Nyack, N.Y., and president of the Student Alumni Ambassadors, has received the T. Muncy Keith Spirit Award for 2012 from the UD Alumni Association (UDAA).
University President Patrick Harker and UDAA President Darelle Lake Riabov, EH73, presented the award at a halftime ceremony in October.
The Spirit Award is a $1,000 scholarship presented each fall to a Student Alumni Ambassador who has made or has the potential to make the greatest contribution to the organization.
Student Alumni Ambassadors are undergraduates who are selected for their outstanding achievements and leadership on campus. They encourage school spirit, foster connections between alumni and students, support the Office of Alumni Relations, serve as advisory board members to the University community and aspire to be active UD alumni upon graduation.
"Being a Student Alumni Ambassador has given me the chance to meet so many alumni and hear about other people's experiences at UD," says Weisberg, who joined the program as a freshman and remained involved.
Presidential Citations honor accomplishments
Six alumni were honored during Homecoming Weekend as the 2012 recipients of the Presidential Citation for Outstanding Achievement, the 20th year the awards have been made.
Since the award's inception, just 227 people among 157,000 living alumni have been so honored, UD President Patrick Harker said at the ceremony.
"Our honorees are clearly accomplished," he said. "They're the success stories we hold out to today's students, the embodiment of the attributes we promise will yield good things—talent, hard work, discipline, passion, vision, perseverance."
Here are the 2012 honorees.

Joseph Chen, AS92, a pioneer of the Chinese Internet industry whom Forbes magazine called "a creative and conceptual thinker," is founder, chairman and CEO of Renren, the leading real-name social networking site in China, which also offers a group buying service.
Darryl P. Conway, HS 93, is assistant athletic director for sports medicine at the University of Maryland College Park, where he oversees day-to-day operations and coordinates sports medicine services for 22 athletic teams and 600 student-athletes.
Andrew T. Hill, BE96, 97M, 03PhD, is the economic education adviser at the Federal Reserve Bank of Philadelphia, an adjunct professor of economics at Temple University and a frequent speaker on economic and personal financial education topics.
Kirk Malloy, EO90M, 93PhD, is vice president of global customer solutions at Illumina, a leading molecular instrument, software and reagent company, where he is responsible for commercial operations and manages a team of some 400 employees in 47 countries.
Taesha Mapp-Rivera, EG94, BE00M, is corporate program manager for DuPont's Global Trade Secret Risk Management Network, which is responsible for cultivating a disciplined knowledge management culture and robust technology infrastructure.
Karen A. Stout, AS82, EH95EdD, has served since 2001 as president of Montgomery County Community College, a multi-campus college in suburban Philadelphia, which is recognized nationally for its work in student success and its use of technology.
Outstanding alumni continue to volunteer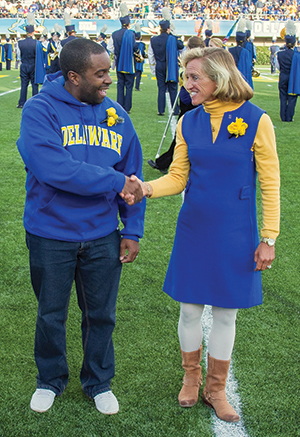 Two UD graduates who have remained involved with their alma mater over the years were honored at Homecoming 2012 with the UD Alumni Association's Outstanding Alumni Award.
Claire M. DeMatteis, AS87, and Terrance Bowman, EG95, were recognized at the President's Homecoming Luncheon and at the football game. The award is given to alumni who have exhibited exceptional volunteer work on behalf of the University and/or the association.
DeMatteis, who is executive vice president, general counsel and corporate secretary for Catalina Marketing Corp., is a strong supporter of UD's Center for Political Communication and served for two years as inaugural chair of the center's advisory council.
Bowman, vice president and technical operations lead for JPMorgan Chase, has been the acting president of the University's Black Alumni Organization for the last four years and a dedicated fundraiser for the organization's endowed scholarship fund.
DeMatteis was nominated for the award by Joseph Pika, interim associate dean of the College of Arts and Sciences, and Ralph Begleiter, director of the Center for Political Communication. Bowman was nominated by Dave Morris of the Office of Annual Giving and Justine Talley-Beck of the Office of Alumni Relations.