Rock guitar business is on a roll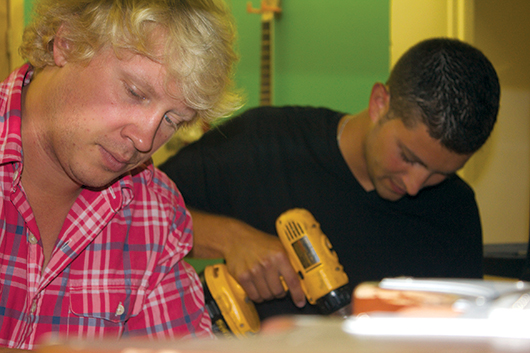 Photo by Sarah E. Meadows, AS13
ALUMNI | After playing an assortment of guitars for more than 15 years, Nicholas Lee Gregg, EH10, became interested in customizing his own. And, with the help of UD's leadership program, Gregg and his business partner, Rob Harris, AS11, have found that nothing is out of their reach.
Gregg took classes to learn how to become a luthier, or stringed-instrument maker, and conducted his own research. "I experimented with my own instruments—reverse engineering—and demolished a lot of them in the process," he says.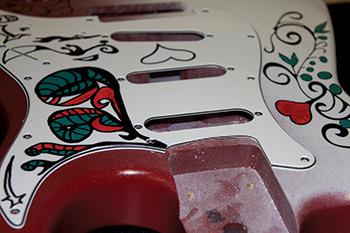 Photo by Sarah E. Meadows, AS13
By 2002, he was operating a custom guitar business out of his home in Middletown, Del. "I fell in love with the art," he says.
Gregg found his passion in creating tribute series guitars, which are working replicas of famous artists' instruments, such as those used by Jimi Hendrix, Eric Clapton, Paul McCartney, Bruce Springsteen, Prince and Jimmy Page.
"I thought it would be cool to re-create those guitars, so I did," Gregg says. His first replica was a Stevie Ray Vaughan, and the reaction it got was encouraging, he says: "I showed it to a few people and they thought it was amazing!"
He and Harris met as undergraduates in a leadership class and became close friends. The two decided to team up and recently opened their first joint shop, Nicholas Lee Custom Shop Guitars and Discount Musical Supply (DMS), in Rehoboth Beach, Del.
"Even if you aren't a player, you can walk in and admire the instruments. The shop is laid out like an art gallery, and you can test out some of the guitars," Gregg says. "In the lobby, a 102-inch projection screen comes out of the ceiling and rolls footage of the original artists playing their original guitar."
Harris is heading DMS, which launched in November, with Nicholas Lee Custom Shop Guitars scheduled for opening in early 2013. The dual business will operate online and out of the partners' storefront, providing custom guitars as well as discount musical accessories to the public.
"People don't want to pay an arm and a leg for quality items," Harris says. "We are hoping to scratch the surface of a multi-billion-dollar industry with DMS."
As the lead designer, Gregg works anywhere from five to seven days a week, putting in 16 hours each day—sometimes more. In a typical week, he has 50-100 guitars in various stages of production. Each instrument takes about five hours to manufacture from start to finish, with each part handcrafted and hand-painted.
"It's a true custom shop. Everything is made from scratch," he says. "Quality wood is key, along with the electronics. Then the rest is simply physics and art."
In the coming year, Gregg and Harris plan on introducing a beginner guitar and are going to use it to support charitable causes. A handful of guitars will be donated to the ServiceSource Foundation, which supports people with disabilities, for music therapy classes. The partners are also collaborating with the Make a Wish Foundation and Nemours/Alfred I. duPont Hospital for Children for their Five Hundred Smiles Campaign, in which they hope to distribute 500 beginner models to 500 kids.
Harris and Gregg say they owe their entrepreneurial ambitions and achievements to UD's leadership program and one professor in particular. "Tony Middlebrooks [associate professor of public policy and administration] inspires you to think outside the box, do what you love and make a business out of it," Harris says. "Leadership can't be taught, but the program offers insight for everyone about decision-making and executional design."
And with their new business, Gregg adds, "Everything we learned in the program we still use today."
Article by Sarah E. Meadows, AS13