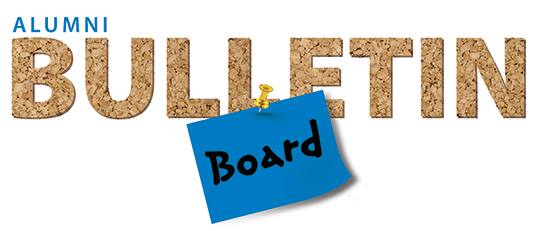 Faculty members to lead seventh trip to China in June
The Office of Alumni Relations has announced the seventh annual special trip for alumni, faculty, staff and friends of UD to China, the Middle Kingdom, in June 2013.
The journey will be led by volunteer directors Xiang Gao, UD Trustees Distinguished Professor of Music, and his wife, Renee Dong, instructor in Chinese in the Department of Foreign Languages and Literatures.
The deadline to apply is Feb. 1.
The trip will include visits to Beijing; Xi'An, site of the 2,000-year-old Terracotta Warriors; Shanghai, the largest port in the world; and Suzhou, the city of traditional Chinese gardens and birthplace of Chinese silk. Each year, the trip features not only these famous sites but also the educational elements and cross-cultural experiences its two directors provide.
"As an artist from China who has lived in the U.S. for more than 20 years, I consider China and the United States as my mother and father countries," Gao says. "As a cultural ambassador, I have been passionately promoting cultural exchange and understanding between the people of the two great nations musically. This trip is another way to show my uncompromised commitment in promoting Sino-U.S. relations."
The 2013 trip brochure, with itinerary and application forms, is available at www.UDconnection.com; click on "Get involved."
Partnership makes new life insurance program available
The UD Alumni Association (UDAA) has partnered with The Alumni Insurance Program, a resource for a variety of life insurance products. It offers affordable plans designed to meet the insurance needs of alumni, including new graduates, new parents or those who want to supplement their current coverage.
To take advantage of this benefit, visit www.UDconnection.com/services. The revenue earned by the UDAA for each online purchase helps support student events and scholarships, alumni awards and events, regional alumni clubs and other alumni programs.
Alumni association welcomes six new members to board
Six new members joined the UD Alumni Association Board of Directors effective July 1. They are:
Ken Boyle, EG78, of Yardley, Pa., president of StederNC, a software and technology advisory company; Megan DiMuzio Del Collo, EH99, of Moorestown, N.J., director of learning and development for Lincoln Financial Group; Julie Zimmerman Derrickson, AS01, of Bear, Del., a billing coordinator for the law firm Maron Marvel Bradley and Anderson; Paul Fioravanti, AS93, of Wilmington, Del., a managing director with the law firm Prickett, Jones and Elliott; Maureen Cawley Ortega, AS98, of Wilmington, Del., a compliance specialist with Ace American Insurance Co.; and Robert Waters, BE82, of Oak Hill, Va., retired vice president for HR strategy and talent management with Northrop Grumman Corp.
"Each new member brings a special set of skills that will help us move our organization forward," says Darelle Lake Riabov, EH73, president of the UDAA.
As the association welcomed its newest board members, it also thanked its outgoing members: John Gaul, AS78; Susan Gell Hugel, AS73, 74M; Joanne Colletta Reihm, EH76; Ruth Johnson Reynolds, EH64, 97M; Thom Shumosic, EH06; and Stephan Zacharkiw, BE99.
Regional club parties celebrate new grads and new freshmen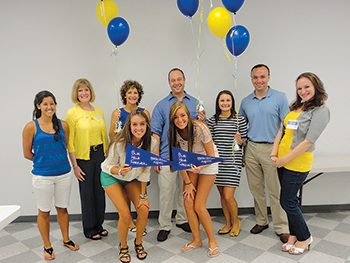 The new alumni status of more than 3,800 Class of 2012 graduates was celebrated with "Welcome to the Neighborhood" events held in cities across the country in August. Parties were held in Baltimore, Boston, Lancaster (Pa.), Long Island, New York City, Philadelphia and Wilmington, Del.
"The annual welcome events give new alumni a chance to connect with other UD graduates, make new friends and network professionally," says Leslie Lundgaard, alumni club coordinator with the Office of Alumni Relations. "We want our alumni to know that they always have a broader Blue Hen family that they can rely on, no matter where they live."
Also in August, alumni welcomed to the roost the incoming Class of 2016 with New Student Send-Off parties in several cities. Alumni met with new freshmen and their parents to give them advice and wish them luck before the students left for campus.
The welcome and send-off events were planned by alumni club volunteers in each city. UD has more than 15 alumni clubs and 20 "spirit cities" nationwide, with more being established each year. To start a club in your area, contact alumnet@udel.edu, and check out the list of existing alumni clubs at www.UDconnection.com/clubs.
Get involved by nominating others or volunteering yourself
New members of the Alumni Wall of Fame will be inducted during Alumni Weekend in June, and nominations for those awards are now being accepted.
The Wall of Fame, established in 1984 by the University and the UDAA, recognizes outstanding professional and public service achievements by UD graduates. Nomination forms and information are available at www.UDconnection.com/walloffame.
The UDAA also is seeking energetic Blue Hens who are interested in serving on regional alumni club boards across the country. Volunteer roles at all levels are open for alumni who want to get involved, make a difference and represent the University. Visit www.UDconnection.com/clubs for information on alumni clubs.
Alumni clubs warm up winter with friendly gatherings
Jan. 16—Boston Club, "Winter Warmer" happy hour
Jan. 17—New Castle County Club, open meeting and happy hour, Bahama Breeze
January—New Castle County Club, UD bowling team with Delaware Sports League begins
January—South Florida Club, monthly business networking lunch
January/February—Lancaster Club, trip to Barnes Foundation, Philadelphia
Feb. 7—Reading (Pa.) Club, bowling, Berks Lane
Feb. 9—South Florida Club, Florida Renaissance Festival
Feb. 13—Boston Club, UD men's basketball at Northeastern University
February—New Castle County Club, themed cooking class with Dana Herbert
February—New York City Club, winter social and networking event
February—South Florida Club, monthly business networking breakfast
March 14—Boston Club, meet at Institute of Contemporary Art
March 17—Lancaster Club, A Chorus Line, Fulton Theatre
March—South Florida Club, monthly business networking happy hour
March—South Florida Club, wine tasting, Boca/Fort Lauderdale area
April 4—Reading (Pa.) Club, happy hour, Railroad House Restaurant
Visit UDconnection.com to view more events