ALUMNI | Engineering, law, medicine. Those were her choices.
Anyi Lu's mother outlined the three courses of study she was allowed to pursue when she entered the University of Delaware two decades ago. They were the only ones her mother considered as paths to a lucrative career.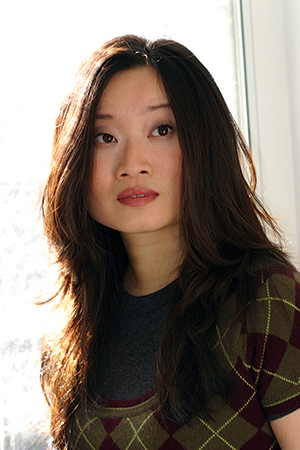 Photos courtesy of Anyi Lu International
"She said, 'I raised you. I don't plan to raise your children too,'" Lu recalls.
Lu was good at math and science and "didn't want to go to school for 15 years," so she made her choice and graduated in 1997 with a degree in chemical engineering.
Today, she owns a women's shoe company whose products sell in Nordstrom, Bloomingdale's and several high-end boutiques. While the connection between fashion design and engineering may not be obvious, Lu says having a mind that processes both is what makes her successful.
After graduation, Lu immediately began working for DuPont as a field engineer in the company's motor oil division, later moving on to a technical marketing position for Chevron Corp.'s lubricant business. While she excelled at the work, Lu says she knew it wasn't her passion, and others, including her then co-worker David Spatz, knew it, too.
"Most people working in that area loved cars and speed and oil," says Spatz, who now is married to Lu. "Anyi loved fashion."
And, Lu says of her former colleagues, "They looked at me like I was an alien!"
The "alien" enrolled in some design courses. While shopping one day in 2003, she met shoe designer Taryn Rose by happenstance. Rose took an interest in Lu and offered to look over her portfolio, an item Lu didn't even have yet.
Their subsequent meeting, featuring a quickly cobbled-together portfolio, led to a job in Rose's marketing department. In 2005, Lu started her own company, Anyi Lu International, where she uses her background to design footwear she labels "couture comfort" for working women.
"Working as a female engineer helped me appreciate that there is truly a need for professional women who want to look stylish and be comfortable at the same time," she says.
Lu remembers days spent suffering in heels as she moved between manufacturing plant floors and boardrooms. The professional dress required meant that many comfortable shoes were not an option.
"Shoes are tools for me, something I need to depend on to get me through the day," she says. "We use our heads and want to focus on our thoughts. We don't have time and energy to worry about aching feet."
The engineering side of Lu's mind shines through when she describes one material used to increase her shoes' comfort level—polyurethane foam developed by NASA and used in the seats of space shuttles. She closely follows technological developments in materials as well as business practices, saying the skills she learned through engineering—reasoning, logic, strategy and attention to detail—continue to guide her daily professional life.
While her work now is far from what her parents envisioned, Lu credits them with setting her on the right path. And, she says, she plans to do the same with her own young daughter.
Article by Andrea Boyle Tippett, AS02