Women win big at track and field invitational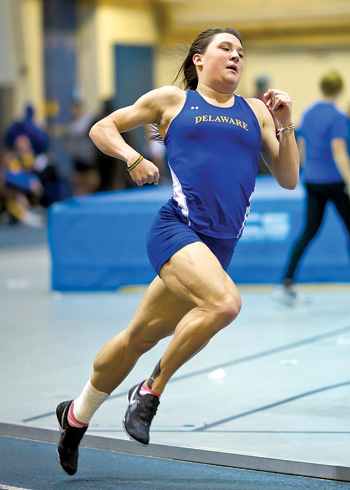 Photo by Mark Campbell
SPORTS | The UD women's indoor track and field squad dominated the action at Delaware Field House on Jan. 28, taking first place in eight different competitions and capturing the team title at the annual UD/Thomson Invitational.
The Blue Hens stormed past the seven-team Division I field, earning 254 points thanks to the eight first-place finishes and eight runner-up showings. Towson was second with 191.5 points.
The big winner for the Blue Hens was junior sprinter Vicky Caruso, who captured both the 200 meters (24.58) and 400 meters (55.48) to finish up a solid afternoon and capture six individual titles for the season.
Other first-place finishers were Meredith Steenkamer in the 1,000 meters (307.42), Lindsay Prettyman in the mile (5:10.21), Latoya James in the 60-meter hurdles (8.78), Miranda Reinson in the pole vault (10-10), Paige Morris in the triple jump (37-6 1/2), and the 4x400-meter relay quartet of Alexandra Carroll, Toresha Foster, Kelly Donovan and Sydney Shepherd (4:05.29). James' winning time broke her own school record set earlier this season and qualified her for the ECAC Championships in March.