Shillinglaw hits 300-win mark in men's lacrosse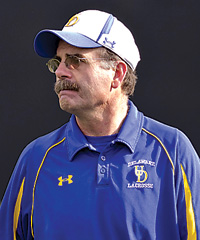 SPORTS | An explosive third quarter in the first game of the collegiate men's lacrosse season at Delaware Stadium on Feb. 4 was just what the Blue Hens needed to help place veteran head coach Bob Shillinglaw into the history books.
Breaking away from a 4-4 deadlock at halftime, the No. 19 ranked Delaware team exploded for 12 third-quarter goals and cruised the rest of the way for a 19-6 victory over Detroit Mercy.
The win gave Shillinglaw his 300th career victory, making him only the third active NCAA Division I head coach (with Georgetown's Dave Urick and Virginia's Dom Starsia)—and only the eighth in the history of men's collegiate lacrosse—to reach that milestone.
The Feb. 4 win gave Shillinglaw, now in his 37th season as a college head coach and his 34th at Delaware, a 300-264 career record, 276 of those wins with the Blue Hens. A two-time national Coach of the Year, he has led the Hens to six NCAA Tournament appearances, including four since the 2005 season. Delaware is the two-time defending Colonial Athletic Association champion.
"So many people had a part in this," Shillinglaw said of the 300-win mark. "I've had so many outstanding assistant coaches and players who have made me look good over the years. I'm proud of this year's team, and I'm proud to be a part of the University of Delaware lacrosse program."