The Bob gets a 'Wow!' from players, coaches, fans, recruits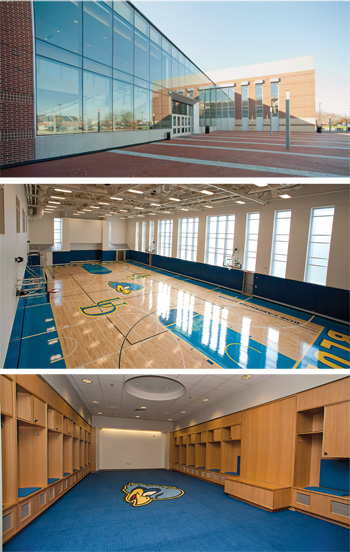 Photos by Kathy F. Atkinson
SPORTS | The large crowds attending basketball games this season entered the Bob Carpenter Center through its new 45,000-square-foot addition. For fans, it's a sight to see. For the Blue Hen basketball and volleyball teams, it's home, complete with new locker rooms, offices and practice spaces.
"Anybody who's been through it has been pretty awed," says Alan Brangman, University architect and campus planner. He notes the awe is a natural reaction to the addition's stark contrast with many of the older spaces inside the BCC. The original building has several tight corridors and windowless rooms, while the addition is fronted with a two-story bank of windows.
"The whole procession of how you come into the building and experience the space is part of the design, in terms of trying to leave an impression," Brangman says.
UD Athletics wants to make a good impression on fans and recruits. Previously, UD's facilities paled in comparison to the facilities of many other NCAA Division I schools. Now, recruits see two full-size practice courts for use by varsity and recreational teams, two film and media rooms, head coaches' offices with balconies overlooking the practice gyms, and gleaming new locker rooms, each with a team lounge.
"We now have that 'wow' factor when we give prospective student-athletes and their parents a tour of what we have to offer," says UD volleyball head coach Bonnie Kenny.
Student athletes can relax in their lounges or work in the communal study spaces, intended to enhance a sense of community. "It's not just about playing the game, it's about being student-athletes," Brangman says.
It's also about getting attention. The expansion makes it easier to attract tournaments and events, including the first and second rounds of the 2013 NCAA Division I women's basketball championship tournament.
"We are thrilled to be awarded the opportunity to host a segment of [that] championship," says Bernard Muir, director of athletics and recreation services. "The new addition has allowed us to meet criteria for additional ancillary space that is necessary for hosting an event of this magnitude.
Article by Andrea Boyle Tippett, AS02