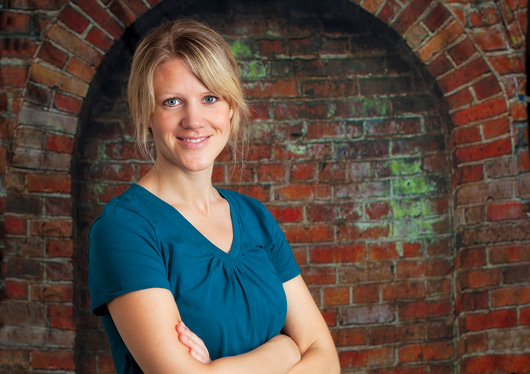 Photo by Ambre Alexander
Soldiers as storytellers
New software will help troops record, share experiences
RESEARCH | Storytelling is a time-honored way of conveying information. Storytellers weave tales based on threads of information from previous experiences in order to inform, educate and expand the knowledge of others.
Kristina Winbladh, assistant professor of electrical and computer engineering, is putting a new twist on this ancient art by developing a contextual learning system to train soldiers bound for foreign regions.
"Much of the noncombat work soldiers do abroad involves securing and maintaining peace in highly populated civilian areas, yet, while our soldiers have excellent combat training, they are equipped with little social training," Winbladh says.
"In the military, misunderstandings can cost innocent lives. Storytelling is powerful because it puts information into context, something current military training scenarios lack."
Her work is funded through a 2011 Young Faculty Award from the Defense Advanced Research Projects Agency, the research arm of the U.S. Department of Defense. The two-year grant, totaling $299,000, will support Winbladh and her research team in their effort to create both the system's architectural structure and a collection of stories that seek to serve as background for soldiers to better understand and cope with events that fall outside their assigned tasks or training.
Part of the challenge for the research team is gathering details about the interactions soldiers have had and using that information to build a catalog of stories, which Winbladh calls the project's "body of knowledge." The project aims to use that body of knowledge to teach other soldiers about various cultures or regions and help them, and the people they interact with, remain safer in unfamiliar situations.
"In this case, it also has the potential to build up trust between soldiers on peacekeeping missions and the people they are trying to protect," says Winbladh, who was one of 39 scientists nationwide selected for funding from a pool of more than 400 applicants.
The system Winbladh and her team want to develop is called iMuse (Interactive Mode-based Use-case and Storytelling Environment). It is intended be an interactive software system that will help storytellers input stories, and then translate those experiences to a format that can be processed by computer algorithms.
Experiments with different virtual reality engines, event-based simulators and information retrieval techniques are designed to enable the team to build enhanced system features into the program to better aid storytellers.
For example, an important goal of iMuse is to allow storytellers to formulate a narrative using defined concepts and actions, and then ask questions to clarify and refine the story. Sequences of events that occur often would be tagged for reuse, creating a drag-and-drop menu of options new storytellers could use to quickly enter their data.
Once the information was cataloged, new storytellers would have access to a case library of previous story models that they could use to plan and develop their own narratives. While designed with the military in mind, the software system is intended to have many possible uses.
"The format for the end user is deliberately undefined," Winbladh says. "The point is that the information should be in a format that can be translated by a machine for use in many different contexts, including software development, virtual reality scenarios, game engines and business applications."
Article by Karen B. Roberts, AS90