Winter Session offers time for in-depth student projects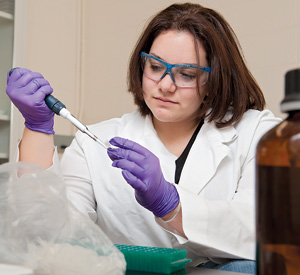 Photo by Evan Krape
RESEARCH | In January, 23 students received Winter Session Senior Thesis Awards from the Undergraduate Research Program, allowing them to immerse themselves in research.
"These four weeks provide the time for students to work full time on a capstone activity that will lead to solutions of important disciplinary problems and launch their future as scholars and problem solvers," says Lynnette Overby, director of the Office of Undergraduate Research and Experiential Learning.
The award recipients included John Paul Harris, a plant and soil sciences major and Honors Program student, who spent Winter Session in the lab, testing the capability of the common, edible, oyster mushroom to remove harmful bacteria such as E. coli from water. He hopes his research will lead to a cheaper, greener way for farmers to treat wastewater.
In another lab on campus, psychology major Lisa Dokovna conducted research on fetal alcohol spectrum disorder, the moderate to severe cognitive impairments that can occur in children whose mothers consumed alcohol while pregnant. Dokovna wants to pursue a doctorate in neuroscience, and to understand how such cognitive impairments occur and to develop interventions to ameliorate them.
Shane Palkovitz, an English major and Honors Program student, spent Winter Session in South Africa interviewing individuals who had been displaced from Zimbabwe. Palkovitz says that although a number of factual publications exist on human displacement, his goal is "to add the human element to the statistics" and "to give a voice to those who wish to share their stories."