Flexible work time supports healthy behavior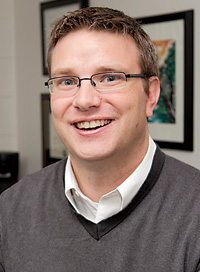 RESEARCH | A flexible workplace initiative improved employees' health behavior and well-being, including a rise in the amount and quality of sleep and better health management.
Those were the findings of a recent study by researchers at the University of Minnesota and UD, which was published in the December issue of the American Sociological Association's Journal of Health and Social Behavior.
Eric Tranby, assistant professor of sociology at UD, is a co-author of the study, which was led by University of Minnesota sociology professors Erin Kelly and Phyllis Moen.
"Our study shows that moving from viewing time at the office as a sign of productivity, to emphasizing actual results, can create a work environment that fosters healthy behavior and well-being," Moen said in a news release.
The study looked at employees participating in a flexible-work initiative that allowed them to change when and where they worked based on their individual needs and job responsibilities without seeking permission from a manager. Participants said they got almost an extra hour of sleep on nights before work, were less likely to feel obligated to work when sick and more likely to go to a doctor when necessary, and had less work-family conflict which, in turn, improved their sleep quality, energy levels and health.
The study is part of Tranby's larger research agenda to assess the effects of flexible work policies, including how state-mandated flexible work policies impact the financial well-being of women and families.