Fueling a cleaner, greener future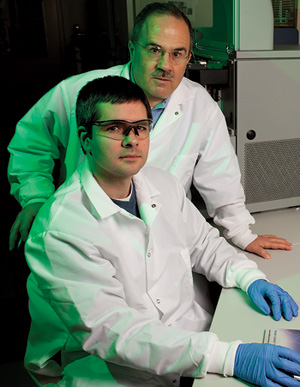 Kathy F. Atkiinson
RESEARCH | Biofuels are made from renewable resources, such as agricultural products, and unlike their nonrenewable fossil-fuel counterparts, such as oil, their use has the potential to reduce pollution and U.S. dependence on foreign resources.
Their production, however, is problematic. Biofuels must be produced quickly and at high concentrations in order to make them economically feasible, and the process can be toxic to cells necessary in their manufacture.
Eleftherios (Terry) Papoutsakis, Eugene du Pont Chair of Chemical Engineering, is working to create hardy organisms for producing biofuels and chemicals from renewable sources—microorganisms that are more resistant to toxic chemicals. Previous biofuel research has focused largely on ethanol, but in the last three to four years, butanols have attracted considerable interest.
"Our main goal is to improve the organism used to derive economically feasible biofuels by focusing on the genomic technology," says Papoutsakis, whose three-year project is funded through a $2.2 million grant from the federal Department of Energy.
The research group includes five other UD faculty members: Cathy Wu, Jefferson Chair and director of the Center for Bioinformatics and Computational Biology and professor in the departments of Computer and Information Sciences and Biological Sciences; Blake Meyers, Rosenberg Professor and chair of the Department of Plant and Soil Sciences; Kelvin Lee, Gore Professor of Chemical Engineering and director of the Delaware Biotechnology Institute; Maciek Antoniewicz, DuPont Young Professor in chemical engineering; and Hongzhan Huang, research associate professor, computer and information sciences. Costa Maranas, professor of chemical engineering at Pennsylvania State University, also is collaborating.