Plant scientists, beer maker rise to the occasion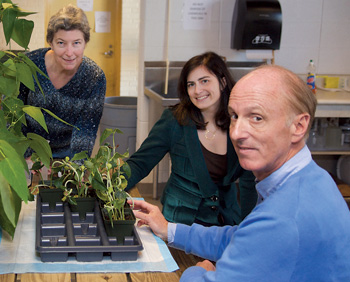 Photo by Danielle Quigley
RESEARCH | The First State is now the first state to have its own yeast, thanks to a proclamation by Delaware Gov. Jack Markell that awarded the honorary designation to Kloeckera (apiculata) (strain KA 1).
The yeast is the key ingredient in Delaware Native Ale, a new, limited-time ale created by Dogfish Head Brewery in Milton, Del., which features grown-in-Delaware hops, peach and pear juices and other native ingredients. The light ale was introduced in the fall at a gathering at the brewery's pub in Rehoboth Beach.
Tom Evans and Nancy Gregory had every right to feel like proud parents at the event. After all, they isolated the yeast, identified it and gave it its first home, in laboratories at UD.
Evans is a professor of plant pathology in the Department of Plant and Soil Sciences, and Gregory is a Cooperative Extension associate in that department who works closely with Evans on other research projects. She spends most of her days in the University's Plant Diagnostic Clinic, looking for bad guys—fungal, bacterial and viral diseases that have shown up on a farmer's crops or a homeowner's prized garden plant. After she has identified the pathogen, she and other Extension colleagues usually are able to present solutions for controlling the problem.
But for the Dogfish Head project, Gregory was looking for good guys—yeasts that would make the perfect base for a native Delaware brew. Yeast is the single most important ingredient in beer brewing. As a fungus, it's a living organism that metabolizes, reproduces and lives off ingredients in beer. During the beer's fermentation stage, yeast is responsible for converting sugar to alcohol and carbon dioxide, and it also plays a large part in how the beer will ultimately taste.
There are literally thousands of varieties of yeast in the world, says Gregory, including wild yeasts. Dogfish already possessed a proprietary, cultivated yeast that it uses for the majority of its beverages, according to Katrinka Housley, a lab technician with Dogfish.
But the brewery wanted a wild yeast, native to Delaware, for the new ale. State Secretary of Agriculture Ed Kee, AG73, 75M, steered Dogfish's brew team to Evans and Gregory for guidance in finding just the right yeast.
One day in early August, a team visited Fifer Orchards, which offered to be the yeast source, and set out about 100 petri dishes containing a growth medium to trap yeasts. Gregory and Evans then grew and isolated numerous wild yeasts over a period of several weeks in labs at UD.
"At that point in the development of a yeast isolate, you're weeding through all the chaff to get to the wheat," Evans says. "You're looking at microscopic budding cells under a microscope, separating yeasts from other fungi and bacteria or other material."
The UD scientists incorporated their noses into the culling process, too. "Some yeasts smell like bread, some a little fruity and some just plain foul," Evans says. The stinkers were immediately taken out of the running.
A dozen or so promising candidates for the ale were sent to Dogfish, where 37 trained tasters checked them out. The winning yeast, Kloeckera (apiculata) (strain KA 1) originated in a box of peaches that were "seconds"—not quite picture-perfect and up to Fifer standards.
"As a land-grant institution, UD is committed to working with Delaware's agricultural producers to improve their profitability," Evans says. "We're involved in education, applied research and outreach to agricultural operations throughout the state. This project was a new one for us, but it certainly fits with our mission."
Evans plans to incorporate information about finding Kloeckera (apiculata) (strain KA 1) into a class he teaches each fall. The students will even get to see a sample of Delaware's new state yeast, which Gregory has safely stored away in a liquid nitrogen cabinet in a clean lab.
Article by Margo McDonough, AS86, 95M