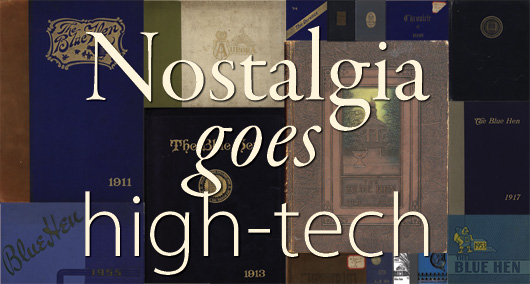 ON THE GREEN | The University of Delaware Library has announced completion of the digitization of all UD yearbooks and, now, the easy accessibility of those publications.
The yearbooks of the University, in their various iterations, are accessible online through the library's website. Visit www.lib.udel.edu/digital, and scroll down to "Blue & Gold Yearbooks" for the collection from the Women's College of Delaware and to "Blue Hen Yearbooks" for the collection of Delaware College and UD yearbooks.
All yearbooks of the University, published under varied names, have been scanned at a high resolution and are full-text searchable. A user can search online for a specific name, word or topic in each yearbook.
The collections themselves have different names because of UD's history. During the years of 1834-1859 and 1870-1921 the University of Delaware was named Delaware College. In 1921, it was renamed the University of Delaware, which was an all-male institution through 1945.
A separate Women's College was founded in 1914. It merged with the all-male University to become a coeducational institution in 1947.
The two digital collections contain an electronic reproduction of every yearbook published for both Delaware College and the Women's College as well as the University of Delaware.
The oldest yearbook, dating back to 1899 and titled Aurora, was first produced by the all-male Delaware College. The second yearbook was published four years later in 1903, with the title The Derelict. The University of Delaware yearbook was named the Blue Hen with its 1912 publication, and the Blue Hen title of the yearbook was adopted and retained until 1999, when it ceased publication.
The yearbook of the Women's College was Blue & Gold, with the exception of the first yearbook in 1918, which was published under the title The Chronicle. The Women's College yearbooks were produced annually from 1918-1921, then biennially through 1945, ceasing when the two colleges merged in 1947. The 1924 yearbook was titled Cheemaun, which means "Birch Canoe."
"The digital collection of all yearbooks of the University of Delaware contains 75 yearbooks, and the Blue & Gold contains 17 yearbooks," says Susan Brynteson, vice provost and May Morris Director of Libraries. "I think that alumni of the University of Delaware will greatly appreciate the ability to view the online version of the yearbooks to identify wonderful memories and warm reflections of their time at the University."
The yearbook digitization project was coordinated by Mary Durio, head of the Center for Digital Collections, under the leadership of Gregg Silvis, assistant director for Library Computing Systems. Some yearbooks not in the UD Library collection were loaned from University Archives and Alumni Relations.