Newest alumni, friends, family mark milestone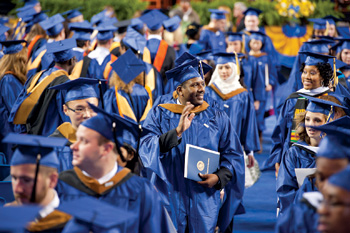 Photos by Evan Krape
ON THE GREEN | The newest graduates of the Class of 2011 and their achievements were celebrated during Winter Commencement ceremonies held Jan. 8 in the Bob Carpenter Center.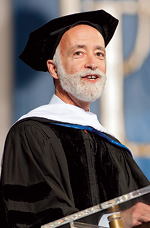 University President Patrick Harker welcomed an audience of more than 4,000, which included more than 500 new Blue Hens, as well as faculty, administrators and members of the UD Board of Trustees.
"I can't imagine a better way to begin 2012 than by congratulating the Class of 2011," Harker told the audience. "Today, we honor as well all the families and friends whose encouragement, love and support have gotten you to this milestone day."
Harker noted that for the first time in several years, job prospects were improved for college graduates preparing to enter America's workforce. He stressed that graduates entering the job market must be flexible in adapting to challenges that await them in an economic climate that seems to change more often than the weather.
"I'm not suggesting you abandon your plans," Harker said. "What I am suggesting is that you acknowledge that plans change, by your own doing or by circumstances beyond your control."
He also challenged the graduates to continue to enjoy the thrill of discovering new things during an educational experience that should last a lifetime.
"There is no rush, there is no finish line, only infinite knowledge to explore, and many years left for exploring," he said.
Continuing the tradition of having an alumnus deliver the Winter Commencement address, naturalist and historian Robert McCracken Peck advised members of the Class of 2011 to accept career challenges that may take them far beyond the futures they envisioned based on their classroom training and experiences. (For more about Peck and his career at the Academy of Natural Sciences, see the article.)
Darelle Lake Riabov, EH73, president of the UD Alumni Association, welcomed the Class of 2011 into the organization. "Whatever your future holds, you are linked to every other graduate here, through your common bond as Blue Hens," she said. "It is a matter of great pride that we can say that we're Blue Hens forever—something not everyone can say."
The new graduates generally praised their experiences at UD and expressed optimism for the future and an eagerness to continue their schooling or begin careers.
"It is a great feeling to be graduating," said Rodney Vodery, who received his master's degree in urban affairs and public policy. "I felt that the curriculum at UD was very strong and has prepared me to go out into the world and be of service to the community."
H. David Hannon, a criminal justice major, spoke highly of the University's diversity. "The camaraderie here was very important," he said. "I'm also glad that the University stresses making friendships with international students, because it is always important to have contacts with other students in order to expand your horizons."
One of those international students, Jooha Jeong from South Korea, earned a master's degree in business administration with a concentration in marketing and hopes to work in biotechnology or the pharmaceutical industry. "I have loved being at UD," Jeong said. "The professors have helped me whenever I asked, and I have been very happy here."
Article by Jerry Rhodes, AS04