Speakers share their stories with campus community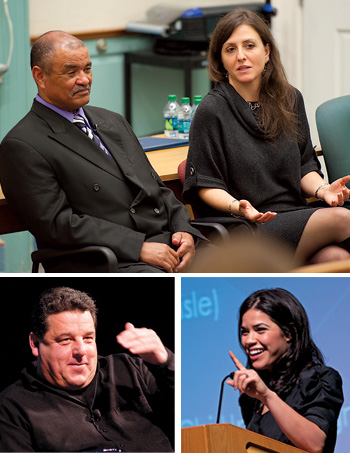 Photos by Kathy F. Atkinson and Duane Perry
ON THE GREEN | Two stars of television series and the best-selling author of a real-life medical drama are among the famous names who have spoken on campus this school year.
America Ferrera, known for her Emmy Award-winning performance in the hit series Ugly Betty, spoke to a standing-room-only audience of more than 500 students and community members in October. Her talk was part of UD's Latino Heritage Month and Beyond 2011 activities.
She told the crowd that the journey to success and self-acceptance begins with education and recalled what it was like as a youngster with no way of knowing how she was going to achieve her dream of being a performer.
The recipient of the 2011 Global Action Award for Childhood Development and Education for her work with Save the Children in Mali, Ferrera said she uses her celebrity to help raise money for such causes. She urged students to get involved with mentoring and other volunteer work.
"I can't help but thank all the individuals that have come into my life, because what they have left me with is the ability to learn more about myself," Ferrera said.
Another speaker during fall semester was Rebecca Skloot, author of the acclaimed book The Immortal Life of Henrietta Lacks. She shared the story of her journey from a one-time rebellious student to an award-winning journalist with freshmen during a First Year Common Reader program.
More than 650 students attended the event, joined by an additional 200 students who watched via simulcast. The audience included several members of Henrietta Lacks' family.
Translated into 25 languages, Skloot's book brings to light the story of a poor African-American migrant from the tobacco farms of Virginia who died from cancer at age 30 in 1951. Without her family's knowledge, a sample of Lacks' cancerous tissue was saved and became a building block for major medical breakthroughs, including the polio vaccine, chemotherapy, cloning, gene mapping and in vitro fertilization.
Skloot said that she was sustained during the decade-long writing process by the desire of Henrietta Lacks' daughter, the late Deborah Lacks Pullum, to see that her mother's story was made known.
"She wanted to share her mother's contribution to science," Skloot said. "She also wanted to see more sharing of the scientific knowledge, which she felt was withheld from her family for so long."
In February, actor Steve Schirripa, best known for his television roles on The Sopranos and The Secret Life of the American Teenager, spoke on campus in an Inside the Actors Studio-type format in which he was interviewed on stage by Peter X. Feng, associate professor of English.
Schirripa got his start as an entertainment director for a Las Vegas club and later began auditioning for roles himself. His movie debut came in Martin Scorsese's 1995 Casino.
His breakthrough role was in HBO's The Sopranos, playing Bobby Baccalieri for six seasons. He told the audience he auditioned for the role of an FBI agent, but the casting directors thought the character of Baccalieri was a perfect fit.
At first, he said, he was hesitant to commit to The Sopranos because he didn't want to be away from his family, including daughter Bria, now a UD student. But, "I listened to my wife, who told me to go back and do the show because it [acting] was the only thing that made me happy," he said.