Bienvenidos a la Universidad de Delaware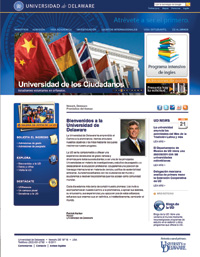 ON THE GREEN | The University of Delaware has launched a new website in Spanish that, at more than 100 pages strong, may be the most extensive university website translated into another language in the United States.
The website—www.udel.edu/es/—is designed to introduce or reintroduce audiences in Latin America, from prospective students and the academic community to corporations and international alumni, to the University. It highlights UD's academics and research, international services, admissions and student life.
"The University's new website in Spanish is an important step in UD's continuing globalization and our goal to develop a more diverse campus community," says David Brond, vice president for communications and marketing. "We are pleased to launch this site, and we invite our Spanish-speaking friends in Latin America and around the world to join the UD family as we 'Atrevete a ser el primero' [Dare to be first]."
The University has active educational partnerships with nearly 20 universities in Spanish-speaking Latin American nations, including Chile, Colombia, Ecuador, Mexico and Peru, according to Matthew Robinson, professor of business administration and director of UD's Institute for Global Studies.
"Having a website that welcomes Spanish-speaking visitors will help to foster these partnerships and establish new ones in research, teaching and service, continuing the momentum of the Global Initiative in the University's Path to Prominence and our goals to educate global citizens," Robinson says. "It demonstrates UD's very real commitment and leadership in this area."
Alec Campbell, BE92, managing partner in NetGrowth Group, an Internet marketing company, has been the chief consultant to the project.
"I've never come across an American university with a prominent portion of its website translated into Spanish or any other language," he says. "If the University of Delaware's translated website is not unique, it's certainly forward thinking."