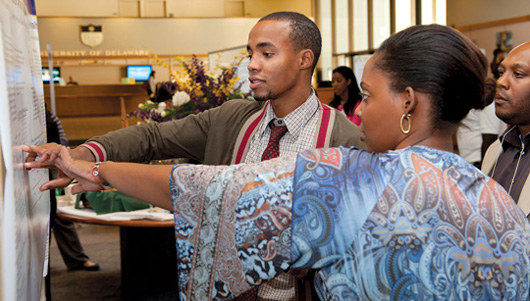 Photos by Evan Krape
McNair Scholars attend national conference on campus
ON THE GREEN | More than 100 students from institutions around the country attended the annual National McNair Scholars Research Conference and Graduate School Fair in the fall, hosted by UD's McNair Scholars Program.
The annual event gathers participants to experience a simulated professional research conference and have the opportunity to network with fellow scholars, faculty and graduate school recruiters.
Named in honor of Ronald E. McNair, the late physicist and NASA astronaut, the Scholars Program targets low-income, first-generation college students and underrepresented students of African American, Latino and Native American descent. The program is designed to prepare these students for academic success, beginning as undergraduates and continuing on through doctoral studies.
The 111 McNair scholars who attended the latest conference came from 25 institutions, some as far as California, in addition to UD.
"The University of Delaware is proud to host this event," Provost Tom Apple says. "McNair programs around the country make a huge impact on the lives and careers of their participating scholars. Events such as this enhance the students' opportunities to achieve success in graduate school and beyond."
This year's event, the ninth such gathering at UD, began with pre-conference activities, giving early arriving conference attendees an opportunity to learn from McNair alumni as they participated in panel discussions on networking and branding themselves as McNair scholars. Kyle Hackett, AS11, was among the McNair alumni who participated.
"When I was invited back to University of Delaware to participate in the pre-conference activities, I became eager to reunite with my McNair family and use this opportunity to pay it forward," says Hackett, now a master of fine arts student at the Maryland Institute College of Art in Baltimore.
"With confidence, I can say my experiences in the McNair Scholars Program have been the fundamental route to my academic and professional growth. Only after looking back, I realize what I learned has intuitively become part of my character and everyday life in graduate school."
Some 60 students were selected to give presentations in education, business, science, the humanities, social sciences and public policy at the conference. Topics ranged from engineering education for early elementary students to attitudes toward genetic testing among women of color.
"The McNair Scholars Program provides underrepresented students an opportunity to explore opportunities in research and creative scholarship," says Lynnette Overby, director of UD's Undergraduate Research Program. "They also become part of a national network of scholars."
The conference's keynote speaker was Freeman Hrabowski, president of the University of Maryland, Baltimore County.
"It was rewarding to coordinate a forum where outstanding McNair Scholars could showcase their research, learn new skills and network in the spirit of excellence," says Kimberly Saunders, director of the UD McNair program.
The conference also included a Graduate School Fair, which was open to all students at UD and other regional colleges and universities.
Article by Jerry Rhodes, AS04