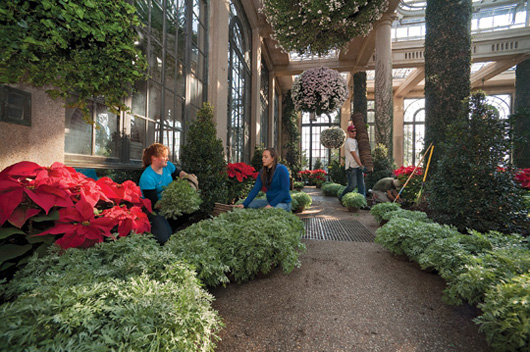 Photo by Evan Krape
Educational opportunities grow for professional gardeners
ON THE GREEN | Students who graduate from Longwood Gardens' Professional Gardener Program will be able to complete a bachelor of science degree in UD's agriculture and natural resources major, under a recent agreement between the University and Longwood.
Longwood's Professional Gardener Program is a two-year, tuition-free program offered every year to about eight individuals who have obtained at least a high school diploma and have one year of horticulture experience. The program trains students to be gardeners skilled in the art and science of horticulture. Students work in all areas of the garden and receive classroom instruction from Longwood staff and outside instructors, some of whom are professors at UD.
Kimberly Yackoski, assistant dean of student services in the College of Agriculture and Natural Resources (CANR), says the agreement offers benefits for both the University and Longwood Gardens. For example, she says, students from the Professional Gardener Program who attend UD will bring their real-world experiences to the classroom.
"For the students who choose to continue at UD, I'm confident they will make a positive impact on other UD students by sharing their horticulture knowledge and the experiences they had during their time at Longwood," Yackoski says. "It's a win-win for everyone involved."
Bob Lyons, UD professor of plant and soil sciences, says the articulation agreement is exciting "because it adds an undergraduate dimension to the already strong graduate program relationship between Longwood Gardens and the University of Delaware. It also recognizes a high standard of rigor by Longwood's coursework instructors, who are committed to excellence in the classroom."
Doug Needham, head of Longwood's education department, says the organization is "passionate about providing our students with a rigorous academic experience, coupled with experiential learning through rotational work internships in the gardens."
Because of this, he says, "It is critical to us that our students have the option to continue their education toward a baccalaureate degree, and we are very pleased to further our ongoing educational partnership with the University of Delaware through this articulation agreement. Graduates of our two-year Professional Gardener Program now will be able to transfer their coursework and complete a B.S. in agriculture and natural resources at UD."
Longwood has an articulation program with Temple University, and about a dozen students from the Professional Gardener Program have received their degrees from Temple or are currently taking advantage of the opportunity. With the success of that program, says Brian Trader, Longwood's coordinator of domestic and international studies and an adjunct faculty member at UD, it only made sense to try to reach the same kind of agreement with the University.
"Longwood already has a strong association with UD because of the Longwood graduate program and because most of the Ph.D. staff here at Longwood are adjunct faculty at UD," Trader says. "Some of the students in the program come from Delaware, and the opportunity CANR provides is very attractive to our students."
Trader also sees the benefits for both sides, saying that for Longwood, "It shows the caliber or the strength of the academics that we're delivering here. It will allow us to recruit better, and it could potentially increase some of the diversity and enrollment in the College of Agriculture and Natural Resources, not necessarily in number but in background and experience."
Article by Adam Thomas