Mentors help students with disabilities explore careers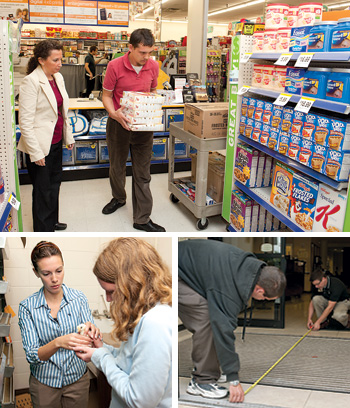 Photos by Kathy F. Atkinson
ON THE GREEN | Shoppers who stopped by the Walgreens store on Main Street in Newark one dreary, rainy day in October might have seen Oliver Dynes setting up a colorful and inviting display at the end of one of the aisles.
With his coach, staff member Deanna Pedicone of the UD Center for Disabilities Studies, giving him encouragement and direction, Dynes completed the display.
Dynes is not a Walgreens employee. As one of 15 young adults with disabilities who participated in Delaware's third annual Disability Mentoring Day, he was carrying out a new task, with store manager Brent Godwin as his supervisor.
The Center for Disabilities Studies partnered with the city of Newark and local businesses to host the local component of this national program that connects about 20,000 students and job seekers with disabilities to employers and businesses for on-site job shadowing and career exploration.
Newark Mayor Vance Funk III, BE65, welcomed Disability Mentoring Day participants at a breakfast hosted by the Marriott Courtyard Newark at the University. He called the event a special day and noted that he's still in touch with the person who shadowed him in 2009.
Funk shared his own experience with a disability that resulted from a stroke 18 years ago, and gave this advice: "It's so important that you try to advance your skills—all of us can."
After the breakfast, each participant and his or her coach moved on to a job-shadowing experience on campus or in the community. Jonathan Pote remained at the Courtyard, where he and his coach, UD senior Hannah Evans, met with engineering and transportation supervisor Greg Caldwell.
Caldwell showed Pote how he starts every day by checking the computer for projects that need to be done, took him to the hotel's engineering workshop and involved him in a project to measure the vestibule area for a new mat. Although Pote already had considerable experience with construction and repair projects, he said that before taking part in Disability Mentoring Day, he had "never thought about working in a hotel before."
Andie Downes, who wants to work with wild animals one day, got a taste of some tamer species during her job shadowing in a UD Department of Animal and Food Sciences laboratory with lab coordinator Laura Nemec. One of Downes' tasks involved weighing some chicks that were subjects in a student experiment to determine the effects of different feed on growth rates. Graduate student Michelle Finegan was her coach.
Dynes, Pote, Downes and 10 other mentoring participants are all students in the University's new Career and Life Studies Certificate (CLSC) program, a federally funded model demonstration postsecondary program for students with intellectual disabilities. It is part of a $ 2.3 million grant from the U.S. Department of Education to develop such programs at UD and around the state.
This is the inaugural year for CLSC, in which students participate in UD classes and student activities while enrolled in coursework and internships that focus on career studies and life skills. The goal is to build individualized programs that prepare students with intellectual disabilities for successful employment or additional education, as well as to provide them with the opportunities that are afforded to other students at the University.