Program helps young children reach for the stars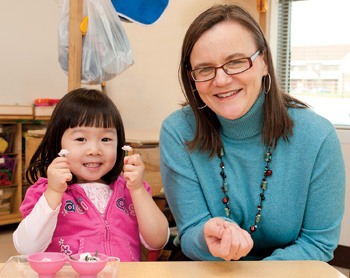 Photo by Kathy F. Atkinson
ON THE GREEN | High-quality early learning experiences are important for all children, but are particularly critical for those in high-risk families, experts say.
Research has found that low-income children who attend high-quality early care and education programs are more likely than their counterparts to be successful, both academically and socially.
In Delaware, 40 percent of young children, from birth to kindergarten entry, are from low-income families, but only 5 percent of high-needs children are enrolled in early learning programs assessed as "high-quality."
To help support and encourage improved child care, Delaware developed a "Quality Rating and Improvement System" through the Delaware Stars for Early Success program. Coordinated by faculty in UD's Department of Human Development and Family Studies (HDFS) and administered by the Delaware Institute for Excellence in Early Childhood, the Delaware Stars program applies evidence-based practices to promote high-quality learning experiences for young children.
Delaware Stars has established quality standards for early learning programs that exceed those of child care licensing, and the program also provides technical assistance to help child care centers improve their services.
This program has been recognized as playing an important role in advancing Delaware's commitment to early education. In 2011, Gov. Jack Markell allocated $22 million for early education initiatives. A portion of this funding created a tiered reimbursement structure, with incremental increases to a program's child care subsidy reimbursement based on its Delaware Stars rating.
Soon after the initiative was unveiled, state education officials learned that Delaware would receive $50 million in additional money, as one of nine states awarded funding through the federal Race to the Top Early Learning Challenge. Delaware's application for the funding was a collaborative effort among three lead agencies—the state departments of Education; Services to Children, Youth and Their Families; and Health and Social Services—which cited the Delaware Stars rating system as an important factor in the state's early childhood education initiatives.
As a result of these grants, Delaware Stars is now ramping up to enroll more child care centers into the rating system, work with centers to improve the quality of early education, better communicate the importance of quality child care to families of young children and increase the number of children who attend top-rated Stars programs.
In an effort to further improve the program, Delaware Stars has introduced a model that provides higher intensity support to child care centers serving low-income children. HDFS faculty members are studying the impact of this model on overall program quality. In addition, they will be collaborating with faculty from the University of North Carolina-Greensboro to develop a new observational measure of early childhood program quality.
"Delaware's young children deserve high-quality early education experiences," says Rena Hallam, EH00PhD (shown, above, at UD's Early Learning Center), an associate professor of human development and family services and director of the Delaware Stars for Early Success program. "The Early Childhood Race to the Top grant, along with Gov. Markell's investment in early education, will provide the necessary resources to improve the quality of care for young children and their families, particularly for those children in most need."
Article by Alison Burris, BE85