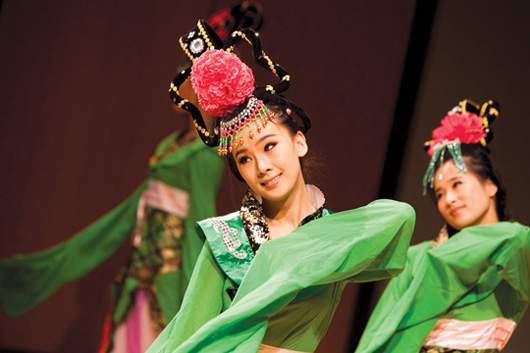 Photo by Ambre Alexander
Confucius Institute celebrates a year of cultural exchange
ON THE GREEN | For a first anniversary, the traditional American gift is made of paper. For its first anniversary, the Confucius Institute at UD received a very fine paper gift, indeed—a check for $12,000, presented during a sparkling celebration at the Roselle Center for the Arts last fall.
The donation from Dennis O'Brien, president and CEO of China Monitor Inc., will help support the housing costs of visiting scholars for the Confucius Institute. O'Brien also has pledged support for faculty funding and internships in a proposed master's degree program in technical Chinese translation and for a postdoctoral fellowship in industrial economics for five years.
In presenting this latest gift, O'Brien said, "Confucius tells us ignorance is the night of the soul, without the moon, without the stars."
A collaboration of UD and Xiamen University, the Confucius Institute was established at Delaware in 2010 with the support of the Hanban/Confucius Institute Headquarters in Beijing, which is affiliated with the Chinese Ministry of Education.
In its first year, the institute has involved more than 510 students from UD, Lincoln University and four public schools in 27 classes, including Chinese language, history, calligraphy, painting, folk dance, taiji and martial arts. Another 5,000 people, from UD and the surrounding community, attended 14 cultural events hosted by the institute, from a Chinese film series to performances by the Jilin University Art Troupe.
"We wish the Confucius Institute at the University of Delaware continued and best development and its students every success, bringing the Chinese and American people closer together," says Jianguo Chen, associate professor of Chinese studies and director of the Chinese Program at UD and co-director of the institute.
"We are thankful for the strong support the University has provided us. We also thank Xiamen University for providing faculty support and various assistance that have made possible the implementation of many of our initiatives."
The Confucius Institute is more than meeting its goals, according to Debbie Dintenfass, who enrolled in a calligraphy class through the Osher Lifelong Learning Institute at UD in Wilmington. "It's just a treasure to have this institute in Delaware," she says. "It's a great outreach program."
In addition to displays of Chinese calligraphy by UD students and their teachers, the anniversary celebration featured a Chinese lion dance by the Penn Lions of the University of Pennsylvania; solos by UD violin virtuoso Prof. Xiang Gao and by New York musician Judy Yeh on the Chinese guzheng; traditional dances by the Dragonfly Dance Club (above); demonstrations of taiji by UD faculty; Changquan fist martial art by the Hockessin Community Chinese School; taiji swordsmanship and the Chinese tea ceremony by the Confucius Institute faculty; and the comic dialogue "Learn to Speak Chinese" by UD students.
Article by Tracey Bryant